Deal analysis by Current Agreements  shows that ophthalmics dealmaking activity has been steady with an average of 68 deals signed since 2009. This can be attributed to advancements in ophthalmics devices that contributed to diagnosis and paved way for research and development in this field.
Ophthalmology is a branch of science that deals with anatomy, physiology and diseases of the eye.
Ophthalmics  partnering is not popular among big pharma and big biotech companies with the exceptions being Pfizer, Allergan , Novartis, Regeneron Pharmaceuticals to name a few. Companies like Bausch& Lomb, Insite Vision, Alcon Laboratories and Inspire Pharmaceuticals are some of the most active dealmakers in ophthalmics therapy area. These companies seek partners in the areas of conjunctivitis, age-related macular degeneration, cataracts, dry eye disease and glaucoma.
The data in this article has been sourced from the newly published Ophthalmics Partnering Terms and Agreements report.
The following figure shows ophthalmics partnering frequency between 2009 and May 2014.
Figure 1: Ophthalmics partnering since 2009
According to Current Agreements database, big pharma and big biotech companies are not active in ophthalmics partnering. The following figure provides an overview of oncology partnering by major industry sector since 2009 showing the popular sectors in partnering.
Figure 2: Ophthalmics partnering by industry sector since 2009
Source: Current Agreements, 2014
Deal analysis from our Current Agreements database, suggests that the vast majority of deals are made at the preclinical stage of development whereby the licensee obtains a right or an option right to license the licensors ophthalmology technology/ compounds. These deals tend to be multicomponent, starting with collaborative R&D, and commercialization of outcomes.
Figure 3: Ophthalmics partnering by stage of development since 2009
Source: Current Agreements, 2014
Ophthalmics, being an exciting and thriving area showing promise in better treatments, can have a high headline deal value. An example to cite would be the recent deal where Akorn acquired the rights to three branded ophthalmic products from Merck to treat conjunctivitis and ocular hypertension…click here for more on this deal.
The following figure shows the leading ophthalmics deals by headline value of the deal when announced between 2009 and May 2014.
 Figure 4: Top Ophthalmics deals by value since 2009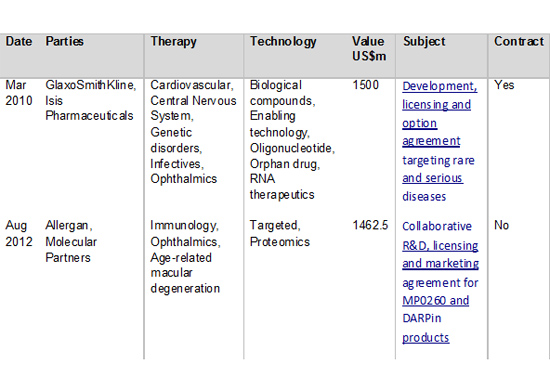 Source: Current Agreements, 2014
Ophthalmics partnering is often targeted towards one of more specific ophthalmics indications. Some of the popular and commonly partnered ophthalmics therapeutic indications are age-related macular generation, retinopathy, glaucoma and dry eye. The following figure illustrates all the individual ophthalmics therapeutic indications recorded in our database.
Figure 5: Ophthalmics partnering by individual therapeutics area since 2009
Source: Current Agreements, 2014
The Ophthalmics Partnering Terms and Agreements report published by Current Partnering provides full details of over 450 ophthalmics deals announced since 2007 and includes average deal terms including headline, upfront, milestone and royalty rates, where available. In addition, the report provides details of deals broken down by deal type, stage of development, company A-Z, specific individual therapy area and technology type. More details here
Sources
The above information has been abstracted from the following resources:
Ophthalmics deals and alliances of 2013
Current Agreements life sciences partnering, M&A and financing deals database
Shamini Thiagarajan
Related
Read: more ophthalmics deals in pharma, biotech, life science partnering deal news, insights and glossary
View: glossary definition for ophthalmics partnering
Report: Ophthalmics Partnering Terms and Agreements
View also: Other specific ophthalmology indication reports
View: Current Partnering's Partnering Scorecard – view top life science partnering deals by value
View: Current Partnering's Deal Metrics – the latest deal trend infographics for life science deal making
View: Current Partnering's Big Pharma Deal Making Scorecard – latest trends in big pharma deal making activity
Signup: Current Partnering Dealmakers Update – weekly newsletter providing the latest life science industry deal news, deal making trends, partnering events – sign up now
Signup: Current Agreements Deals Review – monthly newsletter – reviewing the previous month's life science deal making – partnering, M&A and financing – sign up now
Subscribe: Current Agreements life sciences partnering, M&A and financing deals database – find out more
Follow us on: LinkedIn Current Partnering | LinkedIn Business Development Network | @Currentpartner on Twitter