Shionogi has announced only 2 M&A deals since 2005, with the deals being the acquisition of C&O Pharmaceutical Technology and Sciele Pharma.
Abstracted from: Report: Partnering Agreements with Shionogi 2005-2013
The following figure shows the level of Shionogi M&A deal announcements since 2005.
Figure 1: Shionogi M&A deals 2005-2013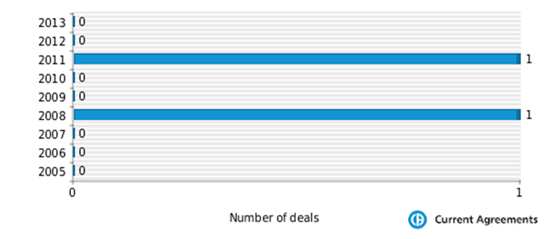 Source: Current Agreements, 2013
Shionogi agreed to purchase a major stake in C&O Pharmaceutical Technology worth $219 million and Sciele Pharma for $1.1 billion to expand its R&D pipeline.
Our report provides more detailed insight into the details of each deal.
See: Partnering Agreements with Shionogi 2005-2013
More
Summary profile data for Shionogi
Partnering interests for Shionogi
Partnering activity for Shionogi
Available reports from Current Partnering
Report: Partnering Agreements with Shionogi 2005-2013
Report: Top 50 Big Pharma Partnering and M&A Deal Trends
Report: Merger and Acquisition Terms and Agreements in Pharma, Biotech and Diagnostics
Available resources for deal coverage for Shionogi
Subscribe: Current Agreements life sciences partnering, M&A and financing deals database – find out more
Read: more on Shionogi company profile, recent partnering, M&A and financing news and articles
Related
Report: Merger and Acquisition Terms and Agreements in Pharma, Biotech and Diagnostics
Report: Practical Guide to Finding Partners
View: Current Partnering's Partnering Scorecard – view top life science partnering deals by value
View: Current Partnering's M&A Scorecard – view top life science M&A deals by value
View: Current Partnering's Deal Metrics – the latest deal trend infographics for life science deal making
View: Current Partnering's Big Pharma Deal Making Scorecard – latest trends in big pharma deal making activity
Signup: Current Partnering Dealmakers Update – weekly newsletter providing the latest life science industry deal news, deal making trends, partnering events – sign up now
Signup: Current Agreements Deals Review – monthly newsletter - reviewing the previous month's life science deal making – partnering, M&A and financing – sign up now
View: Top 50 pharma – overview of top 50 pharmaceutical companies by revenue – partnering activity, deal news, partnering dealtalk
View: Top 50 biotech – overview of top 50 biotechnology companies by revenue – partnering activity, deal news, partnering dealtalk
Follow us on: LinkedIn Current Partnering | LinkedIn Business Development Network | @Currentpartner on Twitter