Novo Nordisk is a top pharma and healthcare company active in partnering, licensing in pharmaceuticals and services specialising in diabetes care equipment and medications.
Novo Nordisk knows the importance that research partnerships play in securing successful pipeline development.
Here is why Novo Nordisk thinks you should consider partnering with them:
Clear strategy in its focused disease areas
Believe in open and honest collaborations based on long-term commitment and mutual interest that are mindful of financial, environmental and societal considerations
Offer world-class protein and peptide technology and development expertise
Are a global research and development organisation with a strong history of collaborating with healtcare professionals and clinical trial centres around the world to develop proteins from molecule to market
For almost a century Novo Nordisk have discovered, developed and marketed protein-based therapeutics. Novo Nordisk continue to leverage our leading expertise in all aspects of designing, expressing, engineering, formulating and delivering proteins to develop new and innovative therapies for people with chronic diseases like diabetes, haemophilia and autoimmune inflammatory disorders.
Novo Nordisk have global reach
Novo Nordisk is a global organisation headquartered in Denmark. The company have long-standing professional relationships with key opinion leaders and decision-makers in our main disease areas around the world and work closely with them to develop, execute and communicate the clinical development of our products.
Novo Nordisk conduct world-class research in target and drug discovery, as well as protein engineering at our research and development sites around the world:
Sites, Denmark
Beijing, China
Seattle, USA
Bangalore, India
Collaboration process
The company have a dedicated organisation and methodology for working with its partners. The vision is to change Novo Nordisk through valuable partnerships, and the company are working focused to have healthy and productive alliances.
The main goal is to bring innovation from partnership to patients and Novo Nordisk believe that a dialogue that addresses mutual synergies and common interests creates the foundation for a win-win partnership. The company are a great believer in leveraging mutually core competencies and developing both partner and ourselves.
Novo Nordisk keeps track of and tightly manages the process from the first contact through the actual collaboration in the conduct phase. The company have well defined transition points, and partners will always have a single point of contact from the different functional areas.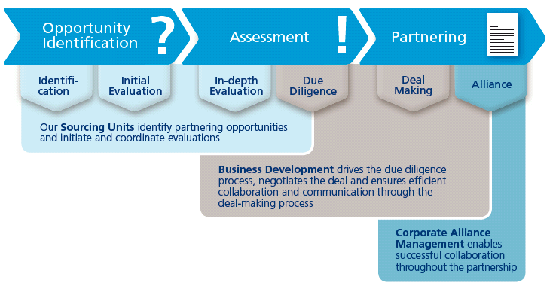 Source: Novo Nordisk website, 2013
Summary of Novo Nordisk partnering interests
Novo Nordisk splits its partnering interests into distinct areas.
These can be summarized as follows:
Diabetes
Novo Nordisk has been a leader in diabetes care since 1923 and continues to pioneer the development of novel treatments for this serious condition.
Novo Nordisk are constantly striving to improve the lives of people with diabetes by finding better methods of diabetes treatment and prevention.
Partnering focus - therapeutic compounds
Insulin and GLP-1 receptor peptide-agonists:
Insulins and GLP-1s with novel therapeutic properties

Optimised for oral delivery
Modified duration of action
Improved side-effect profile
Therapeutic proteins and peptides affecting:
Glucose regulation

Without inducing hypoglycaemia and/or
Without inducing weight gain and/or
With anti-obesity effects and/or
With anti-hyperlipidaemia/anti-atherosclerosis effects

Insulin secretion
Insulin resistance
Beta-cell mass
Obesity
Diabetes late complications
Inflammation related to diabetes and obesity
Prevention/progression of diabetes
Our partnering focus - technologies
Protein and peptide technologies:
Expression
Modification
Production
Formulation and drug delivery technologies for proteins and peptides:
Liquid
Oral
Sustained/triggered release
Protein delivery
In 1985, Novo Nordisk introduced the world's first insulin pen. The insulin pen gave people with diabetes a convenient device to inject insulin several times a day. Since then, Novo Nordisk have made extensive efforts in research and development of new delivery systems which will help people with chronic diseases manage protein therapy even better.
Partnering focus
New injection device concepts and technologies
Injection of soluble protein formulations
Injection of lyophilised protein formulations
New infusion device concepts and technologies
Subcutaneous insulin infusion
Intravenous infusion for haemophilia therapy
New primary packaging concepts and technologies
Hemophilia
Novo Nordisk's  ambition is to change possibilities for people with haemophilia. Every step of the journey is focused on improving treatment options, providing better access to care and following through on our commitment to understand the needs of people with haemophilia.
Partnering focus
Seek partnerships within innovators aiming to improve options for the prevention and treatment of bleeding in people with haemophilia:
Improvement of current therapies for people with inhibitors, including prophylaxis
Improvement of FVIII- and FIX-based therapies for people with haemophilia A or B, including long-acting prophylaxis
Novel non-replacement therapies that improve haemostasis
Growth disorders
Novo Nordisk has been a major player in the field of growth hormone therapy for many decades, and we have world-class expertise in the physiology and pathophysiology of growth and regeneration. The company hold a leading position in the global growth hormone market, aiming for a leadership position – and we keep exploring new modalities to treat human growth hormone disorders.
Partnering focus
Seek technologies and compounds:
With long-acting potential
Suitable for oral administration
Inflammation
Novo Nordisk ambition is to develop novel immunotherapies that will significantly improve the lives of people with autoimmune and chronic inflammatory diseases such as rheumatoid arthritis, lupus, inflammatory bowel disease, and psoriatic arthritis. Novo Nordisk has established a state-of-the-art inflammation research site in Seattle, and we have a number of innovative monoclonal antibody projects in clinical development within autoimmune and inflammatory diseases.
Partnering focus
Novo Nordisk is committed to building a presence in treating autoimmune and chronic inflammatory diseases.
The company welcome first-in-class protein and peptide opportunities from research to clinical stage and focus on the following targets:
Molecules on the surface of cells involved in immune regulation
Cytokines
For the latest detail on Novo Nordisk's partnering interests, visit the partnering section of Novo Nordisk website > go to Partnering for details.
Partnering outreach
Novo Nordisk are routinely present at a large number of partnering events throughout the year.
Partnering events are a great place to meet lots of potential partners face to face in a small amount of time.
Events with Novo Nordisk presence include but are not limited to:
-        BIO International Convention and Business Forum
-        BioPartnering Future Europe / BioPartnering North America
-        BioEurope / BioEurope Spring
For details of events that Novo Nordisk will be attending please visit their where to meet us page.
For a full list of forthcoming partnering events where you could meet with Novo Nordisk in person visit Current Partnering's Event calendar.
In addition, you can find a full list of events where Novo Nordisk will be present for partnering discussions, visit the partnering section of Novo Nordisk website > go to Partnering for details.
Contacting Novo Nordisk for partnering
Novo Nordisk can be contacting in relation to partnering through a number of channels.
Here is a list of the most common channels:
Partnering events: face to face contact is generally considered the most effective form of contact. Partnering events not only allow face to face contact but also contact with multiple companies for the price of one flight and hotel reservation. This benefit makes partnering events the most cost effective method of making personal introductions as a start point for partnering discussions.
See Current Partnering's event calendar for details of forthcoming events.
Direct contact: there are several sources of direct contact with Novo Nordisk business development team
- Phone: Picking up the phone and speaking with an individual is the best form of non-face to face contact as it allows your name and voice to be remembered and associated with an opportunity.
- Email: Sending an email is another good way of making contact. Ideally, research the individual responsible for the therapy/technology area being targeted and get in touch. Novo Nordisk publish a list of contacts on their website, use the contact information here.
- LinkedIn: Business to business contact is increasingly taking place via LinkedIn, the global online networking channel. Many of Novo Nordisk business development executives have LinkedIn profiles and can be found by viewing the company's profile. Visit Novo Nordisk LinkedIn page here
Opportunity submission form: the least favourable channel but worth using if you do not have access to the other channels mentioned above. Novo Nordisk provides an online opportunity submission form which can be found by partnering section of Novo Nordisk website > go to Partnering for details.
More
Company profile for Novo Nordisk
Partnering activity for Novo Nordisk
No M&A activity recorded for Novo Nordisk
Available reports from Current Partnering
Report: Partnering Agreements with Novo Nordisk 2005-2013
Report: Partnering Deals and Alliances with Big Pharma
Report: Partnering Deals and Alliances with Big Biotech
Available resources for deal coverage for Novo Nordisk
Subscribe: Current Agreements life sciences partnering, M&A and financing deals database – find out more
Read: more on Novo Nordisk company profile, recent partnering, M&A and financing news and articles
Related
Report: Practical Guide to Finding Partners
View: Current Partnering's Partnering Scorecard – view top life science partnering deals by value
View: Current Partnering's M&A Scorecard – view top life science M&A deals by value
View: Current Partnering's Deal Metrics – the latest deal trend infographics for life science deal making
View: Current Partnering's Big Pharma Deal Making Scorecard – latest trends in big pharma deal making activity
View: Current Partnering's Big Biotech Deal Making Scorecard – latest trends in big biotech deal making activity
View: Top 50 pharma – overview of top 50 pharmaceutical companies by revenue – partnering activity, deal news, partnering dealtalk
View: Top 50 biotech – overview of top 50 biotechnology companies by revenue – partnering activity, deal news, partnering dealtalk
Signup: Current Partnering Dealmakers Update – weekly newsletter providing the latest life science industry deal news, deal making trends, partnering events – sign up now
Signup: Current Agreements Deals Review – monthly newsletter - reviewing the previous month's life science deal making – partnering, M&A and financing – sign up now
View: Top 50 pharma – overview of top 50 pharmaceutical companies by revenue – partnering activity, deal news, partnering dealtalk
View: Top 50 biotech – overview of top 50 biotechnology companies by revenue – partnering activity, deal news, partnering dealtalk
Follow us on: LinkedIn Current Partnering | LinkedIn Business Development Network | @Currentpartner on Twitter