A recent study by Current Partnering identifies the most partnered therapeutic targets in recent years. Updated version of this article available here Top 15 most partnered therapeutic trends in pharma industry 2014.
The study was conducted by analysing the number of partnering deals listed at Current Agreements, a leading deals and alliances database for the life sciences.
The following figure provides a top level overview of partnering activity based on broad therapeutic
Figure 1: Partnering trends by therapy area 2007-2013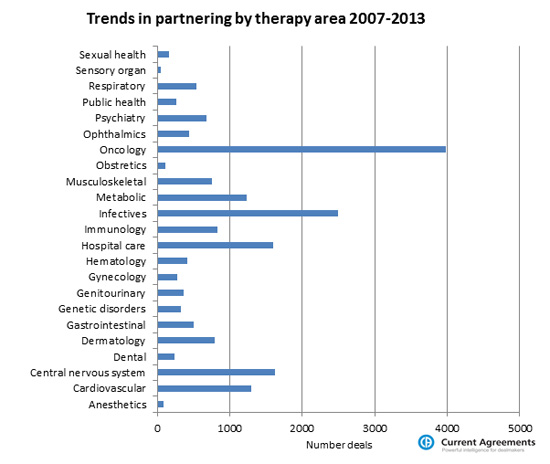 Source: Current Partnering, 2013
The study identified 35 therapeutic targets where more than 100 partnering deals have been announced during the period 2007 to mid-2013.
This article seeks to review the top 15 specific therapeutic targets based on most partnering deals announced.
The full report can be viewed here: Trends in Therapeutic Partnering
Not surprisingly the list is dominated by chronic and life threatening conditions, many of which present in later stages of life. Examples include numerous cancers, infectives, other chronic later life conditions.
These therapeutic areas represent an attractive opportunity and unmet need for many big pharma and big biotech companies.
As a result, the deal making is dominated by top pharma/biotech companies in-licensing from smaller companies in return for upfront, milestone and royalty streams should product candidates make it to market.
In addition, there is much activity between companies/academia for discovery research in these therapeutic areas.
The following is a countdown of the top 15 therapeutic areas in reverse order.
#15. Solid tumors
Number of partnering deals announced: 650
Deal dollar value for partnering: $32.67bn
Solid tumor deal frequency

Source: Current Partnering, 2013
Solid tumor partnering by stage of development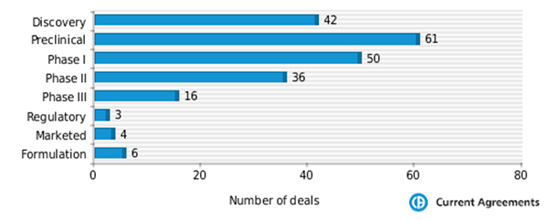 Source: Current Partnering, 2013
All data: 2007 to mid-2013
To obtain comprehensive coverage of every deal announced:
All 35 therapeutic areas: Trends in Therapeutic Partnering
This therapeutic area only: Solid Tumor Cancer Partnering 2007-2013
#14. Colorectal cancer
Number of partnering deals announced: 206
Deal dollar value for partnering: $1.99bn
Colorectal cancer deal frequency

Source: Current Partnering, 2013
Colorectal cancer partnering by stage of development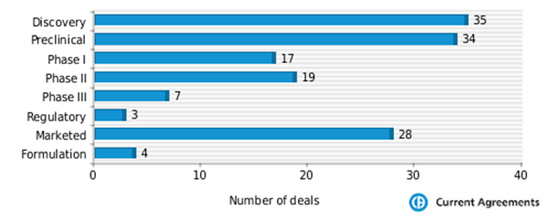 Source: Current Partnering, 2013
All data: 2007 to mid-2013
To obtain comprehensive coverage of every deal announced:
All 35 therapeutic areas: Trends in Therapeutic Partnering
This therapeutic area only: Colorectal Cancer Partnering 2007-2013
#13. Rheumatoid arthritis
Number of partnering deals announced: 229
Deal dollar value for partnering: $19.3bn
Rheumatoid arthritis deal frequency

Source: Current Partnering, 2013
Rheumatoid arthritis partnering by stage of development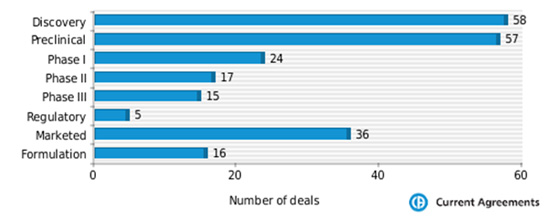 Source: Current Partnering, 2013
All data: 2007 to mid-2013
To obtain comprehensive coverage of every deal announced:
All 35 therapeutic areas: Trends in Therapeutic Partnering
This therapeutic area only: Rheumatoid Arthritis Partnering 2007-2013
#12. Nutrition
Number of partnering deals announced: 234
Deal dollar value for partnering: $13.94bn
Nutrition deal frequency

Source: Current Partnering, 2013
Nutrition partnering by stage of development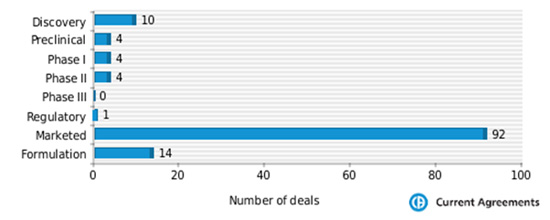 Source: Current Partnering, 2013
All data: 2007 to mid-2013
To obtain comprehensive coverage of every deal announced:
All 35 therapeutic areas: Trends in Therapeutic Partnering
This therapeutic area only: Nutrition & Vitamins Partnering 2007-2013
#11. Prostate cancer
Number of partnering deals announced: 238
Deal dollar value for partnering: $4.83bn
Prostate cancer deal frequency

Source: Current Partnering, 2013
Prostate cancer partnering by stage of development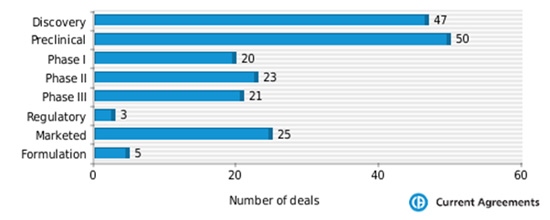 Source: Current Partnering, 2013
All data: 2007 to mid-2013
To obtain comprehensive coverage of every deal announced:
All 35 therapeutic areas: Trends in Therapeutic Partnering
This therapeutic area only: Prostate Cancer Partnering 2007-2013
#10. Leukemia
Number of partnering deals announced: 254
Deal dollar value for partnering: $11.75bn
Leukemia deal frequency

Source: Current Partnering, 2013
Leukemia partnering by stage of development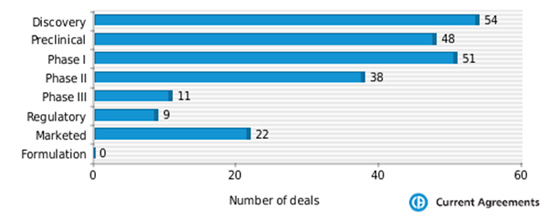 Source: Current Partnering, 2013
All data: 2007 to mid-2013
To obtain comprehensive coverage of every deal announced:
All 35 therapeutic areas: Trends in Therapeutic Partnering
This therapeutic area only: Leukemia Partnering 2007-2013
#9. Wound healing
Number of partnering deals announced: 260
Deal dollar value for partnering: $1.65bn
Wound healing deal frequency

Source: Current Partnering, 2013
Wound healing partnering by stage of development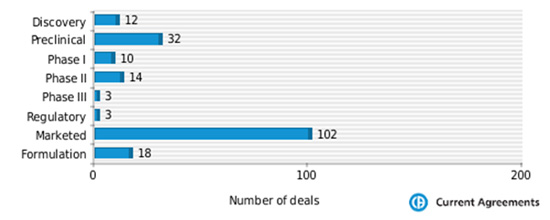 Source: Current Partnering, 2013
All data: 2007 to mid-2013
To obtain comprehensive coverage of every deal announced:
All 35 therapeutic areas: Trends in Therapeutic Partnering
This therapeutic area only: Wound Healing Partnering 2007-2013
#8. Lung cancer
Number of partnering deals announced: 280
Deal dollar value for partnering: $6.54bn
Lung cancer deal frequency

Source: Current Partnering, 2013
Lung cancer partnering by stage of development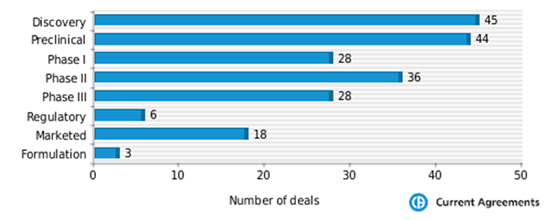 Source: Current Partnering, 2013
All data: 2007 to mid-2013
To obtain comprehensive coverage of every deal announced:
All 35 therapeutic areas: Trends in Therapeutic Partnering
This therapeutic area only: Lung Cancer Partnering 2007-2013
#7. Inflammation
Number of partnering deals announced: 280
Deal dollar value for partnering: $16.98bn
Inflammation deal frequency

Source: Current Partnering, 2013
Inflammation partnering by stage of development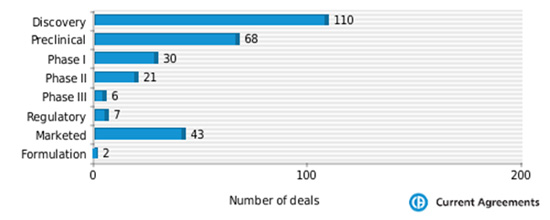 Source: Current Partnering, 2013
All data: 2007 to mid-2013
To obtain comprehensive coverage of every deal announced:
All 35 therapeutic areas: Trends in Therapeutic Partnering
This therapeutic area only: Inflammatory Partnering 2007-2013
#6. Alzheimer's disease
Number of partnering deals announced: 292
Deal dollar value for partnering: $11.33bn
Alzheimer's disease deal frequency

Source: Current Partnering, 2013
Alzheimer's disease partnering by stage of development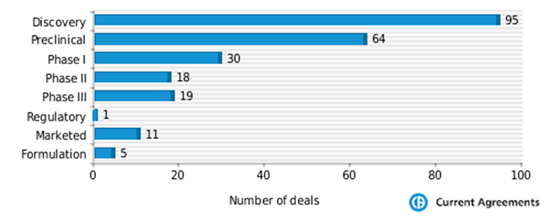 Source: Current Partnering, 2013
All data: 2007 to mid-2013
To obtain comprehensive coverage of every deal announced:
All 35 therapeutic areas: Trends in Therapeutic Partnering
This therapeutic area only: Alzheimer's Disease Partnering 2007-2013
#5. HIV
Number of partnering deals announced: 331
Deal dollar value for partnering: $5bn
HIV deal frequency

Source: Current Partnering, 2013
HIV partnering by stage of development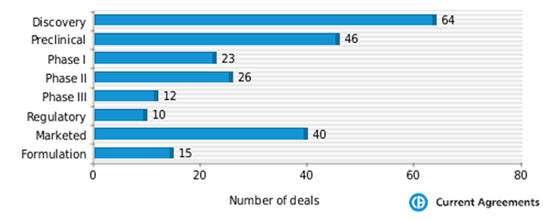 Source: Current Partnering, 2013
All data: 2007 to mid-2013
To obtain comprehensive coverage of every deal announced:
All 35 therapeutic areas: Trends in Therapeutic Partnering
This therapeutic area only: HIV Partnering 2007-2013
#4. Influenza
Number of partnering deals announced: 332
Deal dollar value for partnering: $7.61bn
Influenza deal frequency

Source: Current Partnering, 2013
Influenza partnering by stage of development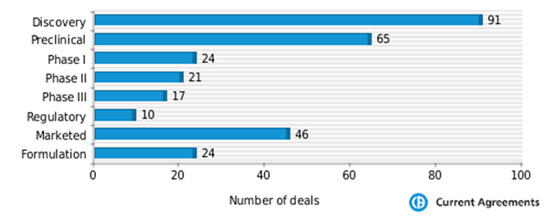 Source: Current Partnering, 2013
All data: 2007 to mid-2013
To obtain comprehensive coverage of every deal announced:
All 35 therapeutic areas: Trends in Therapeutic Partnering
This therapeutic area only: Influenza Partnering 2007-2013
#3. Breast cancer
Number of partnering deals announced: 370
Deal dollar value for partnering: $4.05bn
Breast cancer deal frequency

Source: Current Partnering, 2013
Breast cancer partnering by stage of development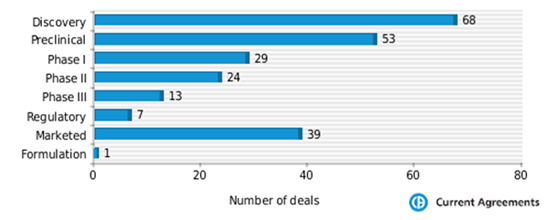 Source: Current Partnering, 2013
All data: 2007 to mid-2013
To obtain comprehensive coverage of every deal announced:
All 35 therapeutic areas: Trends in Therapeutic Partnering
This therapeutic area only: Breast Cancer Partnering 2007-2013
#2. Pain
Number of partnering deals announced: 480
Deal dollar value for partnering: $13.7bn
Pain deal frequency

Source: Current Partnering, 2013
Pain partnering by stage of development
Source: Current Partnering, 2013
All data: 2007 to mid-2013
To obtain comprehensive coverage of every deal announced:
All 35 therapeutic areas: Trends in Therapeutic Partnering
This therapeutic area only: Pain Partnering 2007-2013
#1. Diabetes
Number of partnering deals announced: 650
Deal dollar value for partnering: $36.72bn
Diabetes deal frequency

Source: Current Partnering, 2013
Diabetes partnering by stage of development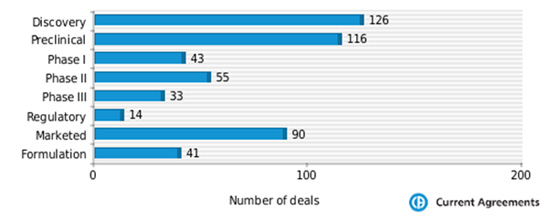 Source: Current Partnering, 2013
All data: 2007 to mid-2013
To obtain comprehensive coverage of every deal announced:
All 35 therapeutic areas: Trends in Therapeutic Partnering
This therapeutic area only: Diabetes Partnering 2007-2013
Full list of top 35 therapeutic targets for partnering since 2007 can be found in the table of contents of the report: Trends in Therapeutic Partnering
Related
Report: Trends in Therapeutic Partnering
View: Full list of therapeutic partnering reports
Report: Partnering Deals and Alliances with Big Pharma                                                  
Report: Partnering Deals and Alliances with Big Biotech
View: Current Partnering's Partnering Scorecard – view top life science partnering deals by value
View: Current Partnering's Deal Metrics – the latest deal trend infographics for life science deal making
View: Current Partnering's Big Pharma Deal Making Scorecard – latest trends in big pharma deal making activity
View: Current Partnering's Big Biotech Deal Making Scorecard – latest trends in big biotech deal making activity
Signup: Current Partnering Dealmakers Update – weekly newsletter providing the latest life science industry deal news, deal making trends, partnering events – sign up now
Signup: Current Agreements Deals Review – monthly newsletter - reviewing the previous month's life science deal making – partnering, M&A and financing – sign up now
Subscribe: Current Agreements life sciences partnering, M&A and financing deals database – find out more
Follow us on: LinkedIn Current Partnering | LinkedIn Business Development Network | @Currentpartner on Twitter