Ranbaxy Laboratories, a top pharmaceutical company, is reviewed in terms of partnering, licensing and M&A interests and activity over recent years.

Website: Ranbaxy Laboratories
Headquarters:  Gurgaon, Haryana, India
Ticker: RANBAXY (NSI)
SEC: Ranbaxy Laboratories
Recent deal news: Ranbaxy deal news at Current Partnering
Must Read Report: Partnering Agreements with Ranbaxy 2005-2013
Ranbaxy Laboratories is a top pharmaceutical company based in Haryana, India.
The company was founded by Ranbir Singh and Gurbax Singh in 1937 as a distributor for a Japanese company Shionogi.
Ranbaxy is a research based international pharmaceutical company and is engaged in the discovery, development, manufacture and sale of pharmaceutical products worldwide.
Ranbaxy is a vertically integrated company that develops, manufactures and markets Generic, Branded Generic, Value-added and Over-the-Counter (OTC) products, Anti-retrovirals (ARVs), Active Pharmaceutical Ingredients (APIs), and Intermediates.
The company offers a large portfolio of over 500 molecules that cover multiple dosage forms including tablets, capsules, injectables, inhalers, ointments, creams and liquids.
The pharmaceutical formulations manufactured by the company covers the following therapy areas:
Anti-infectives,
 Cardiovascular,
 Pain management,
Central Nervous System (CNS),
Gastrointestinal,
Respiratory,
Dermatology,
 Orthopaedics,
Nutritionals and Urology.
Ranbaxy Laboratories has an active licensing venture investment and acquisition group charged with analysing and managing all incoming opportunities. Ranbaxy has a long history of partnering, building numerous collaborative partnerships more
Ranbaxy Laboratories announced over 44 partnering / licensing deals since 2005, with over 25 deals in 2012 alone. Analysis of the partnering deals shows a strong emphasis on partnerships in cardiovascular, anti-infectives, followed by oncology, psychiatry, gastrointestinal and dermatology more
Ranbaxy Laboratories has also announced 4 M&A deals since 2005, with the lead deals being the acquisition of a majority stake of Ranbaxy by Japanese pharma giant Daiichi Sankyo
Top 50 pharma ranking*: -
*based on reported global sale for year ending December 2013.
Key financials
Total annual revenue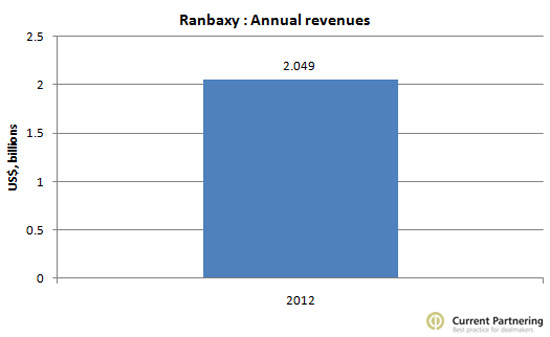 Total annual R&D spend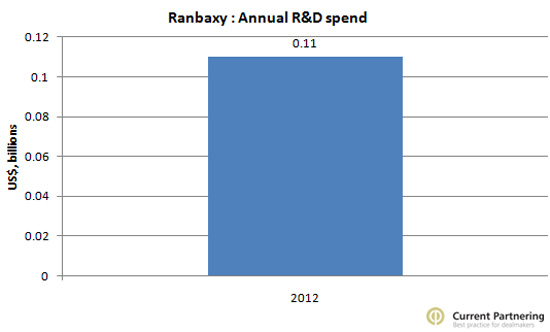 Top selling drugs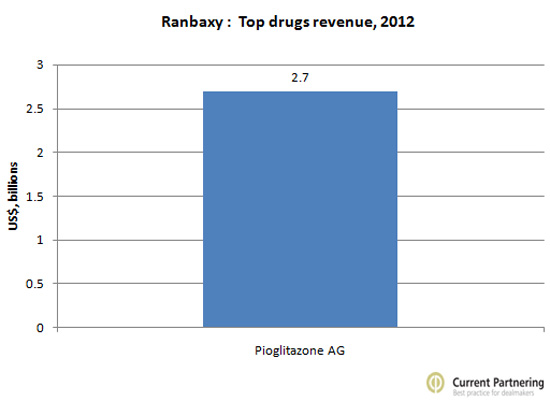 Partnering activity
View partnering activity: 2013 | 2012 | 2011 | 2010 | 2009 | 2008 | 2007 | 2006 | 2005
Full details on each deal can be found at CurrentAgreements (subscription required)
M&A activity
View M&A activity: 2013 | 2012 | 2011 | 2010 | 2009 | 2008 | 2007 | 2006 | 2005
Full details on each deal can be found at CurrentAgreements (subscription required)
More 
Summary profile data for Ranbaxy 
Partnering interests for Ranbaxy
No M&A activity for Ranbaxy since 2009
Available reports from Current Partnering
Report:  Partnering Agreements with Ranbaxy 2005-2013
Report: Partnering Deals and Alliances with Big Pharma
Available resources for deal coverage for Ranbaxy
Subscribe: Current Agreements life sciences partnering, M&A and financing deals database – find out more
Read: more on Ranbaxy company profile, recent partnering, M&A and financing news and articles
Related
Report: Practical Guide to Finding Partners
View: Current Partnering's Partnering Scorecard – view top life science partnering deals by value
View: Current Partnering's M&A Scorecard – view top life science M&A deals by value
View: Current Partnering's Deal Metrics – the latest deal trend infographics for life science deal making
View: Current Partnering's Big Pharma Deal Making Scorecard – latest trends in big pharma deal making activity
Signup: Current Partnering Dealmakers Update – weekly newsletter providing the latest life science industry deal news, deal making trends, partnering events – sign up now
Signup: Current Agreements Deals Review – monthly newsletter - reviewing the previous month's life science deal making – partnering, M&A and financing – sign up now
View: Top 50 pharma – overview of top 50 pharmaceutical companies by revenue – partnering activity, deal news, partnering dealtalk
View: Top 50 biotech – overview of top 50 biotechnology companies by revenue – partnering activity, deal news, partnering dealtalk