Pfizer is a top pharma company active in partnering, licensing and M&A in pharmaceuticals.
Pfizer's tag lines for partnering include:
Partner-driven
Join us in advancing our vision of a healthier world
Partners welcome
Advancing medical breakthroughs
Collaborating to give hope
Pfizer believes that working together is critical to harnessing innovative science.
Pfizer seek strong, long-term relationships that fit its goals and offer a shared vision.
Today, investment in R&D just isn't enough. Recognizing this change in the healthcare industry, Pfizer pursue partnerships to identify, develop and secure innovation wherever it occurs.
It's the power of innovation, including innovation through partnerships that drives us.
Collaboration process
Pfizer's process is simple and partner-focused as they are building the foundations of a potential relationship. After receiving an inquiry, Pfizer's Business Development and scientific and commercial experts will evaluate potential opportunities. Next steps include deal discussions, terms and approvals.
Pfizer's collaboration process is summarized below.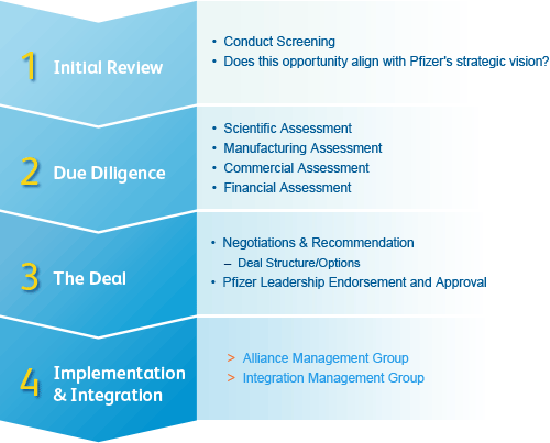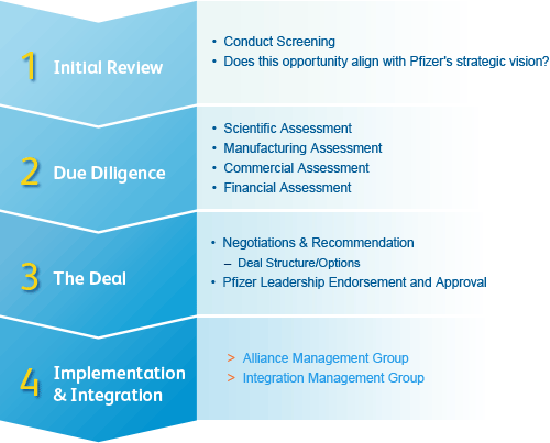 Source: Pfizer website, 2013
Once a partnership is established, Pfizer have an Alliance Management Group that is focused on cultivating a strong relationship throughout the partnership. The group assists with establishing a governance structure and identifying lines of communication.
Pfizer also have an Integration Management Team specifically to lead Mergers & Acquisitions and Divestitures, ensuring that operational and financial goals are met. Pfizer then work together to achieve shared success.
Summary of Pfizer partnering interests
Pfizer splits its partnering interests into four distinct areas.
These can be summarized as follows:
Biopharmaceuticals
Biopharmaceutical businesses include patient-centric business units: Primary Care, Specialty Care, Oncology, Established Products and Emerging Markets.
These business units generally are responsible for late-stage clinical development of investigational medicines that have advanced to at least phase 2b of clinical development, having achieved earlier stages of pre-identified safety and efficacy measures.
The Oncology Business Unit includes the development of Ph I candidates through launch. The business units are also responsible for life-cycle management of approved prescription medicines that have achieved regulatory approval.
With each business unit focusing on specific areas of medicine and related-services or markets, our unique structure allows us to be more responsive and flexible to the needs of our partners.
Specific interests include:
Primary care - Alzheimer's Disease, pain, cardiovascular, technologies that help deliver improved outcomes in key therapeutic areas, diabetes, late-stage primary care development and commercial opportunities.
Specialty care – neuroscience, orphan and rare diseases, pulmonary vascular disease, cardiorenal disease, infectious disease, endocrine, inflammation, immunology, vaccines, late-stage specialty care development and commercial opportunities.
Oncology - late-stage assets in phase 2 and phase 3 (in randomized multi-center controlled clinical trials), highly differentiated assets which raise standard of care via clinically meaningful improvement in efficacy and/or safety, focus on assets which fit a precision medicine strategy, programs which include biomarkers that enable asset to provide significant benefit to targeted patient subset, tumor areas of interest: hematology, lung, breast, renal cell carcinoma (kidney), currently excluding cytotoxics, radiotherapies, supportive care and devices.
Emerging markets - innovative products in emerging markets, cardiovascular and metabolic, pain, allergy and respiratory, anti-infectives, oncology, vaccines, rare diseases; branded and unbranded generics, patient access and methods for strengthening healthcare infrastructures, local company collaborations to expand existing Pfizer franchises or pursue new opportunities.
Established products - post-loss of exclusivity Pfizer drugs, sterile injectables, branded generics, generics, biosimilars.
Worldwide research and development
Advancing breakthrough medicines and vaccines.
Cardiovascular & Metabolic Diseases - CV-risk (ACS, peripheral vascular disease, stroke, atherosclerosis, and heart failure) in non-diabetic and diabetic through improvement in vascular function, protection or repair, reduced vascular inflammation, dyslipidemia, or enhanced cardiac repair and performance; blood pressure in difficult to treat hypertensives; prevention of renal disease in non-diabetics & diabetics; solute transporters and renal disease; kidney podocyte architecture; the progression of co-morbidities related to T2D, in particular end-stage kidney disease; insulin sensitization with weight loss; shifting people to negative energy balance; beta-cell function and survival in T2D dysregulation of alpha-cell function; non-insulin dependent glucose clearance; metabolic adaptations to exercise which protect against or reverse diabetes; mechanisms which protect mitochondria under conditions of chronic caloric excess; lipid content and the appearance of liver fibrosis in patients with NASH / NAFL; dysregulation of liver metabolism; total body energy expenditure, beige and brown fat metabolism; gut and brain signals that regulate energy homeostasis and metabolism; the role of sleep and circadian rhythm in regulating endocrine function & metabolism.
Immunoscience - rheumatoid arthritis, systemic lupus erythematosus, inflammatory bowel disease, psoriasis, multiple sclerosis and other mechanistically related smaller indications with high unmet need.
Specific areas of interest include: cytokines and their signaling pathways, adaptive immunity, lymphocyte biology including Th17 lymphocytes, regulatory cells and tolerance induction, technology platforms and products to help understand patient segmentation in the disease areas of interest and develop precision medicine strategies for innovative portfolio products.
Not actively seeking partnering opportunities in: adequately controlled RA, TNFα, IL-1β targeting biologics, B cell depleting biologics, corticosteroids.
Inflammation & Remodeling - diabetic nephropathy, IgA nephropathy, lupus nephritis and membranous nephropathy, autosomal dominant polycystic kidney disease, acute kidney injury, COPD, severe asthma, pulmonary vascular disease, advanced wound care and skin disease.
Specific areas of interest include: innate immune suppressors, oxidative stress modulators, anti-fibrotics, technology platforms and products to help understand patient segmentation in the disease areas of interest.
Not actively seeking partnering opportunities in: corticosteroids, bronchodilators, ACE / ARB.
Neuroscience - Alzheimer's disease (AD), Parkinson's disease (PD), schizophrenia: positive, negative and cognitive deficits, cognitide deficits across CNS disorders, bipolar disorder, obsessive compulsive disorder, treatment-resistant Depression, autism spectrum disorders (ASD), monogenic neurodevelopment disorders, Huntington's disease, addiction, muscular disorders, eating disorders, ALS, Friedreich's Ataxia, non-AD associated dementias (e.g., vascular dementias), multiple sclerosis, neurobehavioral disorders (e.g., Tourette syndrome, ADHD).
Specific areas of interest include: neurodegeneration / neurological disease: novel potential symptomatic agents for AD or PD (could include LID); agents affecting microvascular circulation and brain metabolism with validated link to AD; imaging agents (e.g., tau, neurotransmitters, neuroinflammation and gliosis); translational biomarkers — preclinical to clinical; biological samples (e.g., IPSc) from well defined AD or PD patient populations; novel screening models for AD and PD drug development (all phases); therapeutics for sensorineural hearing loss; treatments for non-AD dementias (e.g., dementia with Lewy Bodies, Frontal-temporal dementia); psychiatry / behavioral disorders: novel TRD treatments with ketamine-like profile (speed of onset / duration) without psychological side effects; adjunctive anti-depressant treatment; adjunctive agent with negative and/or cognitive symptom efficacy in schizophrenia; PET imaging agent for CNS psychiatry targets; novel technologies for monitoring patient behavior, compliance and/or treatment efficacy; biological samples (e.g., IPSc) from well defined psychiatric disease patient populations; improved clinical or animal models of cognitive domains in psychiatry that are amenable to translation; quantitative neuropsychological testing methodologies; autism and neurodevelopmental disorders: agents targeting core symptom domains (social behavior and communication deficits and repetitive and stereotyped behavior), important non-core symptoms: anxiety, aggression, agitation, GI, intellectual disability; programs with a strong genetic link to disease etiology and pathophysiology; pharmacodynamic neurobehavioral techniques such as eye-tracking/gaze-aversion and sensory stimulus response (e.g., PPI, acoustic-startle); or fMRI and/or MEG imaging; biological samples (e.g., IPSc) from well-defined ASD patient populations; basic research into Autism onset and disease progression; ASD or monogenic animal disease models (including NHP) with relevance to human disease and characterized by behavioral, biochemical, genetic, physiologic underpinning.
Not actively seeking partnering opportunities in: Aß anti-aggregators with unknown MOA; Aß lowering agents: small molecules (unless in P1 or later) and/or large molecule; aAcetylcholinesterase inhibitors; anti-oxidants; dopamine agonists; COMT Inhibitors; MAO Inhibitors; dtem cell therapy approaches; D2/5-HT based APDs; stand alone mania treatments; SSRIs, SNRIs; Corticotrophin Releasing Factor (CRF).
Oncology - lung, colorectal, breast, ovarian, prostate, pancreatic, and hematologic cancers; cancers prevalent in Asia (e.g., gastric cancer, hepatocellular carcinoma).
Specific areas of interest include: targets and technologies that enable antibody and ADC approaches; oncogenic signaling mechanisms; tumor metabolism; epigenetics; directed tumor cell killing via immune-based mechanisms; precision medicine; peptide and bioconjugation technologies and analysis; functional genomics.
Not actively seeking partnering opportunities in: gene therapies; antisense / siRNA / shRNA therapeutics; systemic immune modulation; reformulated cytotoxic agents; radioconjugates; oncolytic viruses.
Pain & Sensory Disorders - chronic pain, neuropathic pain, nociceptive pain; aAcute pain, perisurgical pain management, prevention of chronic post-operative pain; epigenetic approaches to understanding predisposition to pain phenotypes; sensory disorders; disorders involving abnormal sensations of clinical relevance (e.g., visual, auditory, vestibular, somatosensory systems); therapeutic opportunities for sensory disorders should preferably have the potential to be used to treat any of the pain populations listed above.
Specific areas of interest include: ion channels; novel targets on pathways with known relevance to pain, e.g., neurotrophins; improved opiates with fewer side effects, including abuse-resistant formulations; nociceptor-specific drug delivery; technology platforms and products to help understand and segment patients in pain and develop Precision Medicine R&D strategies for our innovative portfolio.
Not actively seeking partnering opportunities in: general anesthetics; NGF antibodies.
Rare Diseases – hematology; haemophilia, extended half-life of coagulation factors, oral anti-hemophilic agents, immune tolerance; other rare hematologic (non-malignant) indications, sickle cell anemia & beta-Thalassemia with focus on disease modifying and/or therapies that significantly change disease pathology, hemostasis (systemic and topical); orphan neuromuscular diseases, Duchenne/Becker muscular dystrophy and myotonic dystrophy: complement internal muscle-building approaches with disease-modifying therapies, Friedreich's ataxia: upregulate frataxin expression, amyotrophic lateral sclerosis (ALS): protein misfolding approaches, disease modifying approaches for other neuromuscular diseases, such as spinal muscular atrophy (SMA); other proteinopathies, lysosomal storage diseases, novel enzyme replacement therapies (e.g., extended half-life or blood-brain barrier penetration), small molecule approaches, alpha-1 antitrypsin deficiency.
Additional areas of interest include:
Vaccines
Biologics Product & Process Development
Biotherapeutics Discovery
Drug Safety
Epigenetics
Pharmacokinetics, Dynamics & Metabolism (PDM)
Precision Medicine
Rinat
Small Molecule Product & Process Development
Small Molecule Therapeutics Discovery
Innovative Partnering Models
Consumer health
Offering well-known consumer brands.
Specific area of interest: pain management, dietary supplements, respiratory, personal care, OTC switch.
Innovation
Furthering innovation in healthcare through collaborative partnerships.
Pfizer seek leading-edge capabilities in Health IT, medical technologies and services that can be applied in the following areas of interest:
Real world data and analytics - Technologies and partnerships to aggregate medical and non-medical information and generate actionable care insights.
Analytics-enabled services - Service models and partnerships that apply analytics-generated insights to deliver personalized care services.
Personal and point of care diagnostics - Diagnostics and sensors used by care givers or consumers to inform diagnosis, monitor and manage healthcare.
Healthcare decision-support tools - Web or mobile-based tools to inform physician and patient diagnosis, monitoring and management of health care.
Open innovation platforms - Solutions to enable collaboration and solutions development with researchers, suppliers, customers and patients.
Venture investments
Investing in companies in all stages of development
With a $50M annual budget for private investments, PVI may invest up to $10M per round in selected companies in any stage of development, with a strong focus on growth stage opportunities. Other investments, including fund investing, spinout opportunities, and PIPEs will also be considered as appropriate. We actively manage our current portfolio and are seeking to make new investments.
Investment Strategy
Pfizer  consider investments in a broad array of healthcare related areas, including therapeutics, platform technologies, diagnostics, drug delivery, pharmaceutical services, healthcare IT, and other technologies impacting drug discovery and development. Pfizer  will consider companies at all stages of development, including start-ups, spinouts, and consortia investments. While primarily U.S. focused, international investments may represent up to 20% of the portfolio. Pfizer have the ability to lead or join a syndicate of investors and will seek board representation as appropriate.
Key Points
Active investor — work with management to build shareholder value, assist in product strategy development, and facilitate business development relationships with Pfizer
Ability to utilize the broad network and specialized expertise of Pfizer and its many divisions, contacts, and data sources to benefit portfolio companies
Simple, streamlined approval process for most investment decisions
Potential for Pfizer partnership opportunity and access to large Pharma perspective and pedigree are added to portfolio company's assets
For the latest detail on Pfizer's partnering interests, visit the partnering section of Pfizers website for details.
Partnering outreach
Pfizer are routinely present at a large number of partnering events throughout the year.
Partnering events are a great place to meet lots of potential partners face to face in a small amount of time.
Events with Pfizer presence include but are not limited to:
-        BIO International Convention and Business Forum
-        BioPartnering Future Europe / BioPartnering North America
-        BioEurope / BioEurope Spring
For a full list of forthcoming partnering events where you could meet with Pfizer in person visit Current Partnering's Event calendar.
In addition, you can find a full list of events where Pfizer will be present for partnering discussions, visit the partnering section of Pfizer website > go to Partnering for details.
Contacting Pfizer for partnering
Pfizer can be contacting in relation to partnering through a number of channels.
Here is a list of the most common channels:
Partnering events: face to face contact is generally considered the most effective form of contact. Partnering events not only allow face to face contact but also contact with multiple companies for the price of one flight and hotel reservation. This benefit makes partnering events the most cost effective method of making personal introductions as a start point for partnering discussions.
See Current Partnering's event calendar for details of forthcoming events.
Direct contact: there are several sources of direct contact with Pfizer business development team
-        Phone: Picking up the phone and speaking with an individual is the best form of non-face to face contact as it allows your name and voice to be remembered and associated with an opportunity.
-        Email: Sending an email is another good way of making contact. Ideally, research the individual responsible for the therapy/technology area being targeted and get in touch. Pfizer do publish a list of contacts on their website, so unless you cannot find a direct contact elsewhere use the contact form here.
-        LinkedIn: Business to business contact is increasingly taking place via LinkedIn, the global online networking channel. Many of Pfizer business development executives have LinkedIn profiles and can be found by viewing the company's profile.
Visit Pfizer LinkedIn page here
Opportunity submission form: the least favourable channel but worth using if you do not have access to the other channels mentioned above. Pfizer provides an online opportunity submission form which can be found by partnering section of Pfizer website > go to Partnering for details.
More
Summary profile data for Pfizer
Partnering activity for Pfizer
Available reports from Current Partnering
Report: Partnering Deals and Alliances with Pfizer
Report: Partnering Deals and Alliances with Big Pharma
Available resources for deal coverage for Pfizer         
Subscribe: Current Agreements life sciences partnering, M&A and financing deals database – find out more
Read: more on Pfizer company profile, recent partnering, M&A and financing news and articles
Related
Report: Practical Guide to Finding Partners
View: Current Partnering's Partnering Scorecard – view top life science partnering deals by value
View: Current Partnering's M&A Scorecard – view top life science M&A deals by value
View: Current Partnering's Deal Metrics – the latest deal trend infographics for life science deal making
View: Current Partnering's Big Pharma Deal Making Scorecard – latest trends in big pharma deal making activity
Signup: Current Partnering Dealmakers Update – weekly newsletter providing the latest life science industry deal news, deal making trends, partnering events – sign up now
Signup: Current Agreements Deals Review – monthly newsletter - reviewing the previous month's life science deal making – partnering, M&A and financing – sign up now
View: Top 50 pharma – overview of top 50 pharmaceutical companies by revenue – partnering activity, deal news, partnering dealtalk
View: Top 50 biotech – overview of top 50 biotechnology companies by revenue – partnering activity, deal news, partnering dealtalk
Follow us on: LinkedIn Current Partnering | LinkedIn Business Development Network | @Currentpartner on Twitter