Roche is a top pharma company active in partnering, licensing and M&A in pharmaceuticals and biotechology.
Roche has an active partnering group that recognizes the significant role played by 3rd party collaborations in delivering great opportunities.
Through partnerships Roche hope that together they can build a better future with medicines that make a real difference to patients. As a pioneer in personalised healthcare, Roche have a track record of delivering solutions that transform the lives of patients.
Recognised as an attractive company to partner with, Roche have a strong desire to deliver future success for its partners and for Roche. It is their collaborative approach that leads to commercial success and allows them to deliver new medicines to the patients that need them.
A survey measuring the partnering functions of the major pharmaceutical companies identified Roche as having particular strengths in deal structure flexibility, executive leadership, alliance management and manufacturing expertise.
Partnering with Roche means that our partners gain from our capabilities: executive leadership, deal flexibility, M&A competency, alliance management, research and development, manufacturing, personalised healthcare and diagnostics.
Personalising deals
Creative deal structures tailored to each partner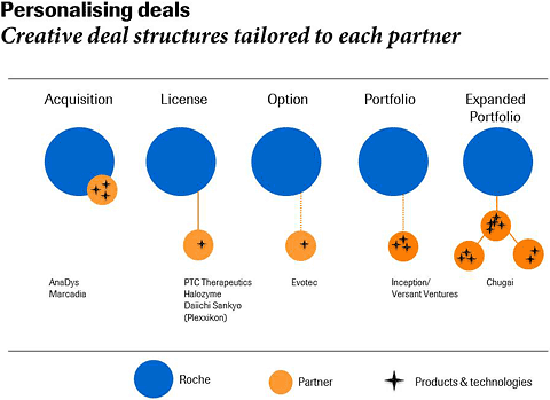 Source: Roche website, May 2013
Roche partnering process
At each stage of the process Roche are able to modify and tailor the relationship to the specific needs of each potential partner and depending on what is best for the asset. Roche find that this flexible approach is welcomed by partners and delivers the best results.
Once a new opportunity is identified, Roche will work alongside its partners with the negotiation team to complete the deal. At the start of negotiations, each project is assigned a Global Alliance Director who will work with the partner through the entire lifetime of the collaboration. Roche are committed to keeping partners integrally involved with decision making.

Source: Roche website, May 2013
Relationship with Genentech Partnering
Roche Partnering and Genentech Partnering are independent divisions with the aim to identify promising technologies and compounds. The two divisions collaborate and compete at the same time; one division may refer a potential partner to the other, whereas, at the same time, both divisions may be interested in the same partnership. Roche view this as a way of extending its potential reach and ensuring that no promising opportunity is missed.
For early-stage compounds, Roche's Pharma Research and Early Development organisation (pRED) has full operational autonomy compared to Genentech Research and Early Development (gRED).
The plethora of Research and Early Development organisations within Roche promote a diversity of research approaches, as well as enabling access to new technologies and promising drug candidates.
For late-stage compounds (typically those that have passed the proof-of-concept stage and are on Phase II clinical trials), our partners can benefit from the agility and expertise of a single organisation.
Irrespective of whether the partnership has been identified by Roche or Genentech, a single organisation, Roche, will carry the relationship forward through to the compound approval and commercialisation.
See also: Genentech partnering interests profile
Summary of Roche's partnering interests
Roche has core strengths in the fields of pharmaceuticals, biotechnology, personalized medicine, diagnostics and research supplies.
Roche are looking for first-in-class or best-in-class opportunities that address diseases of unmet medical need and have the potential to revolutionise the standard of care. Roche focus on its main disease therapy areas – oncology and immunology, ophthalmology, virology, cardiometabolism and neuroscience–as well as looking at opportunities in promising technologies and early-stage collaborations. Beyond the asset, Roche always look for the right partnership and cultural fit.
Roche are not looking for compounds that represent marginal improvements compared to the current standard of care. Roche is not interested in biosimilar compounds or compounds that do not have the potential to become first-in-class or best-in-class.
Roche have a particular interest in opportunities to align with:
Oncology and immunology
Ophthalmology
Virology
Cardiometabolism
Neuroscience
Early stage collaborations
Technologies
For the latest detail on Roche's partnering interests, visit the partnering section of Roche's website > go to Research & Development > Partnering for details.
Partnering outreach
Roche are routinely present at a large number of partnering events throughout the year.
Partnering events are a great place to meet lots of potential partners face to face in a small amount of time.
Events with Roche presence include but are not limited to:
-        BIO International Convention and Business Forum
-        BioPartnering North America
-        BioEurope / BioEurope Spring
For a full list of forthcoming partnering events where you could meet with Roche in person visit Current Partnering's Event calendar.
Contacting Roche for partnering
Roche can be contacting in relation to partnering through a number of channels.
Here is a list of the most common channels:
Partnering events: face to face contact is generally considered the most effective form of contact. Partnering events not only allow face to face contact but also contact with multiple companies for the price of one flight and hotel reservation. This benefit makes partnering events the most cost effective method of making personal introductions as a start point for partnering discussions.
See Current Partnering's event calendar for details of forthcoming events.
Direct contact: there are several sources of direct contact with Roche's business development team
-        Phone: Picking up the phone and speaking with an individual is the best form of non-face to face contact as it allows your name and voice to be remembered and associated with an opportunity.
-        Email: Sending an email is another good way of making contact. Ideally, research the individual responsible for the therapy/technology area being targeted and get in touch. Roche publish a list of contacts on their website, so unless you cannot find a direct contact elsewhere use the list of contacts - Roche's website > go to Research & Development > Partnering for details.
-        LinkedIn: Business to business contact is increasingly taking place via LinkedIn, the global online networking channel. Many of Roche's business development executives have LinkedIn profiles and can be found by viewing the company's profile. Visit Roche's LinkedIn page here
Opportunity submission form: the least favourable channel but worth using if you do not have access to the other channels mentioned above. Roche provides an online opportunity submission form which can be found by partnering section of Roche's website > go to Research & Development > Partnering for details.
More
Summary profile data for Roche/Genentech
Partnering interests for Genentech
Partnering activity for Roche/Genentech
Available reports from Current Partnering
Report: Partnering Deals and Alliances with Roche
Report: Partnering Deals and Alliances with Genentech
Report: Partnering Deals and Alliances with Big Pharma
Available resources for deal coverage for Roche
Subscribe: Current Agreements life sciences partnering, M&A and financing deals database – find out more
Read: more on Roche company profile, recent partnering, M&A and financing news and articles
Read: more on Genentech company profile, recent partnering, M&A and financing news and articles
Related
Report: Practical Guide to Finding Partners
View: Current Partnering's Partnering Scorecard – view top life science partnering deals by value
View: Current Partnering's M&A Scorecard – view top life science M&A deals by value
View: Current Partnering's Deal Metrics – the latest deal trend infographics for life science deal making
View: Current Partnering's Big Pharma Deal Making Scorecard – latest trends in big pharma deal making activity
Signup: Current Partnering Dealmakers Update – weekly newsletter providing the latest life science industry deal news, deal making trends, partnering events – sign up now
Signup: Current Agreements Deals Review – monthly newsletter - reviewing the previous month's life science deal making – partnering, M&A and financing – sign up now
View: Top 50 pharma – overview of top 50 pharmaceutical companies by revenue – partnering activity, deal news, partnering dealtalk
View: Top 50 biotech – overview of top 50 biotechnology companies by revenue – partnering activity, deal news, partnering dealtalk