Merck & Co is a top pharma company active in partnering, licensing and M&A in pharmaceuticals, consumer health and animal health.
Merck's mission is to turn breakthrough science into novel medicines and expand access to our products in order to improve patients' lives. To support these objectives, Merck actively seeks strategic partnerships to complement and enhance our original research and product portfolio.
Merck & Co has an active licensing partnering group that combining expertise is key to innovation and success. Merck & Co expertise in drug discovery and development and worldwide commercial footprint enable it to offer a flexible and innovative approach to partnering.
The licensing team works with partners to advance their science through drug discovery and development collaborations and licensing agreements that are mutually beneficial.
Merck & Co splits its third party partnership efforts into two distinct areas:
Licensing – strategic partnerships is a central part of Merck's mission to turn breakthrough science into novel medicines that improve patients' lives.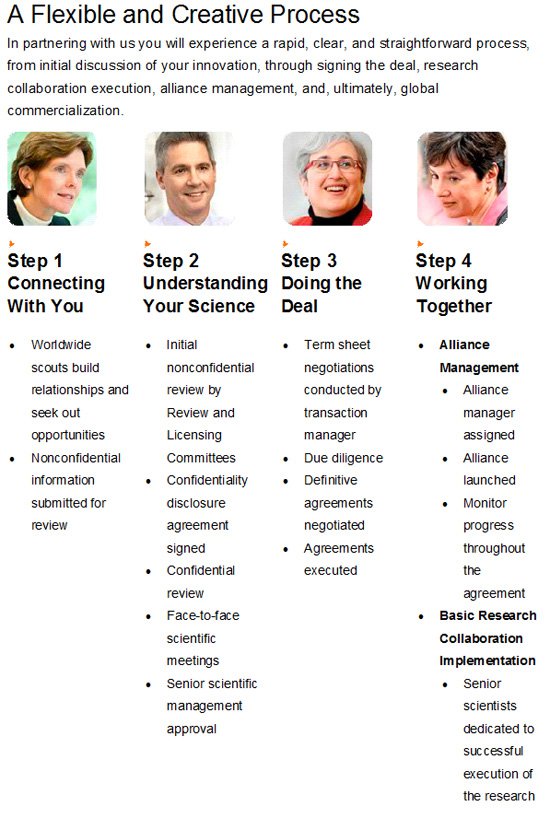 Source: Merck & Co website, 2013
Commercial partnerships – to maximize its market potential and help improve patients' lives, the product has to be commercialized effectively. Merck actively seek opportunities to work with partners who are interested in combining their resources and scientific strength with our proven commercial expertise and customer relationships to extend the reach of their products into the marketplace
Summary of Merck & Co's partnering interests
Merck splits its partnering interests into distinct areas.
These can be summarized as follows:
Human health
Merck & Co are interested in:
Novel patented compounds
Targets with proof of concept
Molecules with a defined mechanism of action or testable hypothesis'
Technologies with patent protection that provide a competitive advantage
Late-stage Opportunities: We will continue to pursue external licensing and partnership opportunities for differentiated products in all disease areas in late-stage development (Phase III-ready and later).
In the following therapy areas:
Cardiovascular - Cardiometabolic and Atherosclerosis, Hypertension in Specific Segments / Pulmonary Hypertension / Heart Failure, Thrombosis
Biologics - Novel biologics with either human genetics validation or clinical POC for the pathway, Immunomodulatory mechanisms (mAbs, etc), Novel devices for SQ and IV delivery
Respiratory and immunology - Arthritis and Immune-Based Diseases, Asthma / COPD / Rhinitis, Urology
Diabetes and endocrinology - Diabetes, Obesity, Osteoporosis, Contraception and Fertility, Other Areas of Women's Health, Technologies and Capabilities
Infectious diseases - Antibacterials, Antifungals, HIV, Hepatitis C, Antivirals – Other Interests, Antiviral and Anti-infective Technologies
Neurosciences and ophthalmology - Alzheimer's Disease, Migraine, Pain, Parkinson's Disease, Psychiatric Diseases, Sleep Disorders, Ophthalmology
Oncology - Novel Targeted Therapeutics, Technologies and Capabilities
Vaccines – infectives, HIV, influenza
Research and enabling technologies - RNA Therapeutics; Drug Delivery, Delivery Devices and Formulation; Translational Models / In vivoPharmacology; In vitro Pharmacology and Screening Assays; Biological Production; Biomarkers; Chemical Synthesis, Modeling, and Purification; Analytical Technology; IT, Informatics, Modeling and Simulation; Mapping of Technology Areas of Interest by Franchise
Consumer care
Merck Consumer Care (MCC) has a unique skill set to offer to potential partners:
A strong consumer marketing and sales organization with a consistent history of growth through innovation
Leader in Rx to OTC Switches
Strategic focus on international growth
Strong Alliance Management skills
In the following therapy areas:
Upper respiratory - allergy, antihistamine and its combination products, nasal congestion, allergy, cold and influenza, oral and nasal decongestants, allergy and congestion prevention, natural prevention and treatment, medical device
Digestive health - constipation and laxative innovations, ingredients, formats, delivery system, pediatric constipation, gastrointestinal health, heartburn, promote wellness, digestive cleansing, gut health (e.g. fiber, probiotics, prebiotics), gluten intolerance
Skin care - protect and repair, sunscreen/post-sun exposure, anti-wrinkle, therapeutic skin care, atopic dermatitis, rosacea, eczema, psoriasis, diaper rash, etc., threats & growth (infestations, bacteria, fungus, wart / corn / callus / skin tag / moles), nnovations for odor/wetness, promote healthy skin, beauty from inside out, natural, skin-whitening agents, device
Footcare and footwear devices - improving balance related to aging, osteoarthritis, sports, etc., electronic measuring or monitoring footwear devices, injury and joint pain management, lower body injury / joint pain management, sport-related injuries and biomechanics
Non-invasive medical devices - reatment, prevention, and diagnostic in the areas of allergy, cough and cold, digestive health, skincare, women healthcare
Technology and methods - oral / buccal / sublingual / nasal / transdermal /topical delivery with the benefits of faster onset of action, increase bioavailability or efficacy, innovative delivery and formulation to support the products of interest, solubility enhancers, compliance enhancement, format and dosage, innovative and differentiated format for existing and pipeline products, convenient and unique dosage form, longer lasting
Ingredients - novel or differentiated ingredient, ideally suitable for existing in-line or pipeline assets, ingredient for the combination with existing in-line or pipeline assets, packaging innovation, easy to apply for topical application, innovative packaging with additional consumer benefits
Animal health
Merck Animal Health's strategic goal is to achieve sustained growth through the continued provision of integrated solutions with innovative animal health products and services that meet the evolving needs of our customers.
Specific areas of interest:
Pharmaceuticals and biologics
Immunology and Inflammation
Atopy including chronic otitis externa therapeutics
Disease-modifying osteoarthritis drugs
Neurosciences and Ophthalmology
Pain management, other than NSAIDs
Keratoconjunctivitis sicca
Diabetes and Endocrinology
Diabetes type 1-related therapeutics
Obesity
Cushing's Disease
Cardiovascular
Congestive heart failure, disease-modifying therapeutics
Oncology
Priority I: Maintenance therapy and immunomodulation
Priority II: Cytotoxics with clear differentiation to current standard of vet care
Growth and Performance in Livestock
Novel, nonsteroidal approaches
Biologics and biotechnological approaches
Reproduction
Novel solutions for livestock synchronization
Anti-infectives
Antibacterials including non-conventional, eg, non-antibiotic antimicrobial approaches
Immunomodulation
Parasiticides
Ectoparasiticides
Endoparasiticides
Premise control
"Theragnostics"
Early pregnancy
Companion diagnostic to our products
Vaccines
Viral, bacterial, and parasitic vaccine candidates in areas of high medical need
Therapeutic vaccines for non-infectious diseases (see therapy areas under Pharmaceuticals and Biologics)
Improvements on our existing vaccines, which would allow for reduced dosing or increased cross-strain protection
Vaccine candidates against emerging diseases
Food safety
Novel technologies for:
Antigen discovery and selection
Vaccine storage, sterile mixing and delivery systems
Thermostability
Novel adjuvants and immunomodulators (including mucosal)
Protein expression systems
Novel cell lines and culture systems
Drug delivery
Transdermal delivery
Penetration enhancers, etc.
Not interested in patch technologies
Implants
Biodegradable and non-biodegradable
Zero order release with no initial burst
Delivery time from weeks to months
Oral delivery technologies
Taste-masking technologies
Ingredients or formulations that can enhance permeability
Novel oral protein / peptide delivery systems (eg, insulin)
Novel solubilizing excipients with accompanying toxicology package for safety assessment studies
Injectable delivery
Injection devices (eg, those capable of large injection volumes)
Technologies for delivery of water-insoluble compounds
Merck & Co out-licensing
In addition, Merck has continued to prioritize its pipeline and disease areas to focus on therapeutic areas where we believe we can achieve the greatest impact. This has resulted in a significant number of compounds becoming available for out-licensing.
These are at all development stages, from preclinical to Phase III from the following therapeutic areas:
Oncology
Respiratory and inflammation
Ophthalmology
Women's health
Biologics
Infectious diseases
Neuroscience
Cardiovascular
Diabetes and endocrinology
A complete list of assets (or portion thereof) is available under CDA. If there is interest in specific assets, Merck can provide a confidential presentation on each selected asset.
For the latest detail on Merck & Co's partnering interests, visit the partnering section of Merck & Co's website > go to Licensing for details.
Partnering outreach
Merck & Co are routinely present at a large number of partnering events throughout the year.
Partnering events are a great place to meet lots of potential partners face to face in a small amount of time.
Events with Bayer presence include but are not limited to:
BIO International Convention and Business Forum
BioPartnering Future Europe / BioPartnering North America
BioEurope / BioEurope Spring
For a full list of forthcoming partnering events where you could meet with Merck & Co in person visit Current Partnering's Event calendar.
In addition, you can find a full list of events where Merck & Co will be present for partnering discussions, visit the partnering section of Merck & Co's website > go to Licensing for details.
Contacting Merck & Co for partnering
Merck & Co can be contacting in relation to partnering through a number of channels.
Here is a list of the most common channels:
Partnering events: face to face contact is generally considered the most effective form of contact. Partnering events not only allow face to face contact but also contact with multiple companies for the price of one flight and hotel reservation. This benefit makes partnering events the most cost effective method of making personal introductions as a start point for partnering discussions.
See Current Partnering's event calendar for details of forthcoming events.
Direct contact: there are several sources of direct contact with Merck & Co's business development team
-        Phone: Picking up the phone and speaking with an individual is the best form of non-face to face contact as it allows your name and voice to be remembered and associated with an opportunity.
-        Email: Sending an email is another good way of making contact. Ideally, research the individual responsible for the therapy/technology area being targeted and get in touch. Merck & Co  publish a list of contacts on their website, so use the contact information here.
-        LinkedIn: Business to business contact is increasingly taking place via LinkedIn, the global online networking channel. Many of Merck & Co's business development executives have LinkedIn profiles and can be found by viewing the company's profile. Visit Merck & Co's LinkedIn page here
More
Summary profile data for Merck & Co
Partnering activity for Merck & Co
Available reports from Current Partnering
Report: Partnering Deals and Alliances with Merck & Co
Report: Partnering Deals and Alliances with Big Pharma
Available resources for deal coverage for Merck          
Subscribe: Current Agreements life sciences partnering, M&A and financing deals database – find out more
Read: more on Merck & Co company profile, recent partnering, M&A and financing news and articles
Related
Report: Practical Guide to Finding Partners
View: Current Partnering's Partnering Scorecard – view top life science partnering deals by value
View: Current Partnering's M&A Scorecard – view top life science M&A deals by value
View: Current Partnering's Deal Metrics – the latest deal trend infographics for life science deal making
View: Current Partnering's Big Pharma Deal Making Scorecard – latest trends in big pharma deal making activity
Signup: Current Partnering Dealmakers Update – weekly newsletter providing the latest life science industry deal news, deal making trends, partnering events – sign up now
Signup: Current Agreements Deals Review – monthly newsletter - reviewing the previous month's life science deal making – partnering, M&A and financing – sign up now
View: Top 50 pharma – overview of top 50 pharmaceutical companies by revenue – partnering activity, deal news, partnering dealtalk
View: Top 50 biotech – overview of top 50 biotechnology companies by revenue – partnering activity, deal news, partnering dealtalk
Follow us on: LinkedIn Current Partnering | LinkedIn Business Development Network | @Currentpartner on Twitter