Teva has announced 13 M&A deals since 2005, with the lead deals being the acquisitions of Cephalon, Ratiopharm and Barr Pharmaceuticals.
Abstracted from: Partnering Agreements with Teva
Teva Pharmaceuticals has a steady record of growth through acquisition, with an average of 1 to 3 major acquisitions every year.
The following figure shows the level of Teva M&A deal announcements since 2005.
Figure 1: Teva Pharmaceuticals M&A deals 2005-2012

Source: Current Agreements, 2013
Teva Pharmaceuticals has signed 13 M&A deals since 2005. Companies acquired include:
Barr Pharmaceuticals
Cephalon
Ivax
Ratiopharm
Taiyo Pharmaceuticals
View the full list at Current Agreements (subscription required)
Teva Pharmaceuticals has been attracted to growth through acquisition in order to build its global generic and specialty pharmaceutical business, resulting in a business with a leading position in this market.
The following figure provides a summary of the top M&A deals by headline value.
Figure 2: Top Teva Pharmaceuticals M&A deals by headline value 2005-2013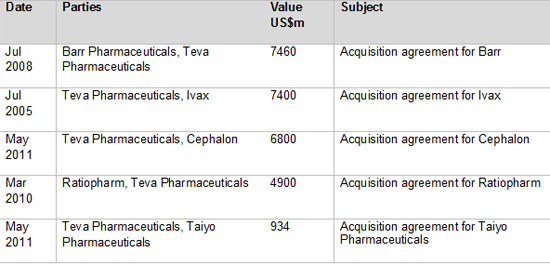 Source: Current Agreements, 2013
Our report provides more detailed insight into the details of each deal. See: Partnering Agreements with Teva
Teva Pharmaceuticals M&A at Current Agreements     
View all M&A deals for Teva: 2013 | 2012 | 2011 | 2010 | 2009 | 2008 | 2007 | 2006 | 2005
Full details on each deal can be found at CurrentAgreements (subscription required)
Or purchase report: Partnering Agreements with Teva 
More
Available reports from Current Partnering
Report: Partnering Agreements with Teva
Report: Partnering Deals and Alliances with Big Pharma
Available resources for deal coverage for Teva
Subscribe: Current Agreements life sciences partnering, M&A and financing deals database – find out more
Read: more on Teva company profile, recent partnering, M&A and financing news and articles
Related
Report: Practical Guide to Finding Partners
View: Current Partnering's Partnering Scorecard – view top life science partnering deals by value
View: Current Partnering's M&A Scorecard – view top life science M&A deals by value
View: Current Partnering's Deal Metrics – the latest deal trend infographics for life science deal making
View: Current Partnering's Big Pharma Deal Making Scorecard – latest trends in big pharma deal making activity
Signup: Current Partnering Dealmakers Update – weekly newsletter providing the latest life science industry deal news, deal making trends, partnering events – sign up now
Signup: Current Agreements Deals Review – monthly newsletter - reviewing the previous month's life science deal making – partnering, M&A and financing – sign up now
View: Top 50 pharma – overview of top 50 pharmaceutical companies by revenue – partnering activity, deal news, partnering dealtalk
View: Top 50 biotech – overview of top 50 biotechnology companies by revenue – partnering activity, deal news, partnering dealtalk
Follow us on: LinkedIn Current Partnering | LinkedIn Business Development Network | @Currentpartner on Twitter