Bristol-Myers Squibb (BMS) is a top pharmaceutical company discovery, development and commercialization of medicinal products worldwide.
The company has one core focus to use a combination of its big pharma expertise with biotech entrepreneurialism and agility.
The company's products focus on cancer, cardiovascular disease, diabetes, hepatitis B, HIV/AIDS, rheumatoid arthritis and psychiatric disorders.
Bristol-Myers Squibb has an active partnering group that has developed a String of Pearls initiative to become partner of choice.
String of Pearls is a strategic program of sequential transactions in which we secure a compound, a pipeline or an entire company. More important than what form a transaction takes is that it builds on our strategy and that it supports our company's covenant to help patients prevail over serious disease.
Bristol-Myers Squibb has created a Strategic Transactions Group, a focused group that identifies and leads all the transactions of the company. The group integrates expertise and insights from across the organization and provides them directly to the company's most senior decision-making body.
It operates in a flexible manner to tailor and structure every transaction, and is charged with sourcing, evaluating and completing critical transactions as part of String of Pearls. This agile operating approach gives Bristol-Myers Squibb the ability to execute transactions swiftly and with the full commitment of the company.
BMS's transaction process
Bristol-Myers Squibb's transaction process seeks to balance speed and accuracy. Our goal is to learn as much as possible about the opportunity and the potential partner while the partner gets to know us as well.
The following is a summary of BMS's partnering process: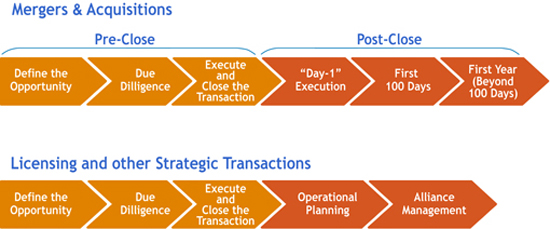 Summary of BMS's partnering interests
Bristol-Myers Squibb splits its partnering interests into distinct areas.
These can be summarized as follows:
New chemical entities and new molecular entities with an emphasis on later stage therapeutic opportunities
Research partnerships and collaborations
Drug discovery and development technologies
Opportunities to expand access to BMS's medicines
Commercial expansion, BMS  seek innovative ways of bringing our medicines to all parts of the globe
BMS's therapeutic focus is as follows:
Cardiology
Psychiatry - Alzheimer's disease
Central nervous system – neuropathic pain
Immuno science
Infectives – HIV, hepatitis C,
Oncology – haematological malignancies, solid tumors
Metabolic diseases
BMS's technology interests are as follows:
Disease biology

Systems biology
Pathway analysis
Novel target identification

Genetics
Genomic sequencing
Proteomics
Target validation

Transgenic animals
siRNA
Kinase assays
Assay development

High content screening
Kinase assays
High throughput screening

Dye markers
High throughput crystallography
Medicinal chemistry

Novel chemistry
Compound libraries
Preclinical development

Microfluidic absorption, distribution, metabolism & excretion
Protein expression
Formulations

Solubility
Biologic delivery systems
Sustained release
Clinical trials

Surrogate biomarkers
Toxicogenomics
Pharmacodiagnostics
Imaging
For the latest detail on BMS's partnering interests, visit the partnering section of Bristol-Myers Squibb's's website > go to Partnering for details.
Partnering outreach
Bristol-Myers Squibb are routinely present at a large number of partnering events throughout the year.
Partnering events are a great place to meet lots of potential partners face to face in a small amount of time.
Events with Bristol-Myers Squibb presence include but are not limited to:
BIO International Convention and Business Forum
BioPartnering Future Europe / BioPartnering North America
BioEurope / BioEurope Spring
For a full list of forthcoming partnering events where you could meet with Bristol-Myers Squibb in person visit Current Partnering's Event calendar.
Contacting Bristol-Myers Squibb for partnering
Bristol-Myers Squibb can be contacting in relation to partnering through a number of channels.
Here is a list of the most common channels:
Partnering events: face to face contact is generally considered the most effective form of contact. Partnering events not only allow face to face contact but also contact with multiple companies for the price of one flight and hotel reservation. This benefit makes partnering events the most cost effective method of making personal introductions as a start point for partnering discussions.
See Current Partnering's event calendar for details of forthcoming events.
Direct contact: there are several sources of direct contact with Bristol-Myers Squibb's business development team
- Phone: Picking up the phone and speaking with an individual is the best form of non-face to face contact as it allows your name and voice to be remembered and associated with an opportunity.
- Email: Sending an email is another good way of making contact. Ideally, research the individual responsible for the therapy/technology area being targeted and get in touch. BMS do not publish a list of contacts on their website, so unless you cannot find a direct contact elsewhere use the contact form here.
- LinkedIn: Business to business contact is increasingly taking place via LinkedIn, the global online networking channel. Many of Bristol-Myers Squibb's business development executives have LinkedIn profiles and can be found by viewing the company's profile. Visit Bristol-Myers Squibb's LinkedIn page here
Opportunity submission form: the least favourable channel but worth using if you do not have access to the other channels mentioned above. Bristol-Myers Squibb does not provide an actual online opportunity submission form, instead they invite submissions by email or post, which can be found by partnering section of BMS's website > go to Partnering for details.
More
Available reports from Current Partnering
Report: Partnering Deals and Alliances with Bristol-Myers Squibb
Report: Partnering Deals and Alliances with Big Pharma
Available resources for deal coverage for Bristol-Myers Squibb
Subscribe: Current Agreements life sciences partnering, M&A and financing deals database – find out more
Read: more on Bristol-MyersSquibb company profile, recent partnering, M&A and financing news and articles
Related
Report: Practical Guide to Finding Partners
View: Current Partnering's Partnering Scorecard – view top life science partnering deals by value
View: Current Partnering's M&A Scorecard – view top life science M&A deals by value
View: Current Partnering's Deal Metrics – the latest deal trend infographics for life science deal making
View: Current Partnering's Big Pharma Deal Making Scorecard – latest trends in big pharma deal making activity
Signup: Current Partnering Dealmakers Update – weekly newsletter providing the latest life science industry deal news, deal making trends, partnering events – sign up now
Signup: Current Agreements Deals Review – monthly newsletter - reviewing the previous month's life science deal making – partnering, M&A and financing – sign up now
View: Top 50 pharma – overview of top 50 pharmaceutical companies by revenue – partnering activity, deal news, partnering dealtalk
View: Top 50 biotech – overview of top 50 biotechnology companies by revenue – partnering activity, deal news, partnering dealtalk
Follow us on: LinkedIn Current Partnering | LinkedIn Business Development Network | @Currentpartner on Twitter