Eli Lilly is a top pharma company active in partnering, licensing and M&A in pharmaceuticals and animal health.
Eli Lilly has an active licensing partnering group that recognizes the significant role played by 3rd party collaborations in delivering great opportunities.
Eli Lilly has a long history of partnering, building numerous collaborative partnerships.
Lilly's partnering strategy is consistent with what we all know about today's marketplace: no one can settle for business as usual, and no one company can go it alone. Within a globally networked structure, Lilly are teaming up to access innovation and capabilities, reduce costs, market products, manage risk and accelerate productivity.
Lilly is focused on leveraging external compound innovation, capacity, capabilities and partnerships around the world.
Lilly think the best way to establish a relationship is through a clear, straightforward process that enables them to respond rapidly and efficiently to potential partnering opportunities. And as the first pharmaceutical company to establish a dedicated office of alliance management, Lilly continue to devote experienced teams to ensure partnership success.
Like many companies, Eli Lilly seeks to be 'partner of choice' in its target therapy and technology areas.
Eli Lilly summarizes its opportunity evaluation process as follows: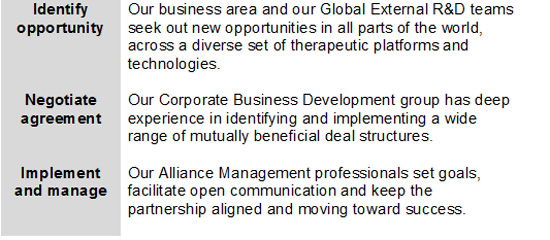 Source: www.lilly.com, 2013
Summary of Lilly's partnering interests
Eli Lilly splits its partnering interests into distinct areas.
These can be summarized as follows:
Biomedicines – Lilly products are well established in many global markets, including US, Japan, EU, Canada and Australia/New Zealand. Specific therapy targets include:
Autoimmune
Bone/Muscle/Joint
Cardiovascular
Neuroscience
Urology/men's and women's health
Diabetes – Lilly is committed to innovative treatment options for a growing population of patients with diabetes
Emerging markets – Lilly recognize both the patient needs that exist in rapidly growing emerging markets around the world, including China, Russia, Brazil, Mexico, South Korea and Turkey, among others. Aiming to increase our presence in these countries, we're seeking partners to help us serve the many unmet medical needs facing these nations
Oncology – With the acquisition of ImClone and the progression of our internal pipeline, one-third of Lilly's pipeline is now composed of molecules to treat cancer. Lilly are evaluating partnership opportunities to drive the discovery and development of breakthrough medicines for cancer patients with unmet needs
Technologies – The mission of Global External R&D New Technologies is to identify and objectively assess external opportunities according to Lilly's strategic needs in order to enable informed investment decisions and robust implementation plans, while building a relationship with our potential partners. Global External R&D New Technologies will partner effectively in managing both the exchange of information and business processes to deliver high quality, cost-effective, improved outcomes for patients
Each opportunity needs to address the following hurdles:
Compounds with a well-articulated hypothesis for the target
Compounds with an identified mechanism of action
Patented new chemical entities
Patented technologies that are superior to, and well-differentiated from existing methods
Clinical compounds that have demonstrated proof-of-concept (Phase IIb, Phase III, marketed)
For the latest detail on Eli Lilly's partnering interests, visit the partnering section of Lilly's website > go to R&D > Partnerships for details.
Partnering outreach
Eli Lilly are routinely present at a large number of partnering events throughout the year.
Partnering events are a great place to meet lots of potential partners face to face in a small amount of time.
Events with Eli Lilly presence include but are not limited to:
BIO International Convention and Business Forum
BioPartnering Future Europe / BioPartnering North America
BioEurope / BioEurope Spring
For a full list of forthcoming partnering events where you could meet with Eli Lilly in person visit Current Partnering's Event calendar.
Contacting Eli Lilly for partnering
Eli Lilly can be contacting in relation to partnering through a number of channels.
Here is a list of the most common channels:
Partnering events: face to face contact is generally considered the most effective form of contact. Partnering events not only allow face to face contact but also contact with multiple companies for the price of one flight and hotel reservation. This benefit makes partnering events the most cost effective method of making personal introductions as a start point for partnering discussions.
See Current Partnering's event calendar for details of forthcoming events.
Direct contact: there are several sources of direct contact with Eli Lilly's business development team
Phone: Picking up the phone and speaking with an individual is the best form of non-face to face contact as it allows your name and voice to be remembered and associated with an opportunity.
Email: Sending an email is another good way of making contact. Ideally, research the individual responsible for the therapy/technology area being targeted and get in touch. Lilly do not publish a list of contacts on their website, so unless you cannot find a direct contact elsewhere use the contact form here.
LinkedIn: Business to business contact is increasingly taking place via LinkedIn, the global online networking channel. Many of Eli Lilly's business development executives have LinkedIn profiles and can be found by viewing the company's profile. Visit Lilly's LinkedIn page here
Opportunity submission form: the least favourable channel but worth using if you do not have access to the other channels mentioned above. Eli Lilly provides an online opportunity submission form which can be found by partnering section of Lilly's website > go to R&D > Partnerships for details.
More
Summary profile data for Eli Lilly
Partnering activity for Eli Lilly
Available reports from Current Partnering
Report: Partnering Deals and Alliances with Eli Lilly
Report: Partnering Deals and Alliances with Big Pharma
Available resources for deal coverage for Eli Lilly
Subscribe: Current Agreements life sciences partnering, M&A and financing deals database – find out more
Read: more on Eli Lilly company profile, recent partnering, M&A and financing news and articles
Related
Report: Practical Guide to Finding Partners
View: Current Partnering's Partnering Scorecard – view top life science partnering deals by value
View: Current Partnering's M&A Scorecard – view top life science M&A deals by value
View: Current Partnering's Deal Metrics – the latest deal trend infographics for life science deal making
View: Current Partnering's Big Pharma Deal Making Scorecard – latest trends in big pharma deal making activity
Signup: Current Partnering Dealmakers Update – weekly newsletter providing the latest life science industry deal news, deal making trends, partnering events – sign up now
Signup: Current Agreements Deals Review – monthly newsletter - reviewing the previous month's life science deal making – partnering, M&A and financing – sign up now
View: Top 50 pharma – overview of top 50 pharmaceutical companies by revenue – partnering activity, deal news, partnering dealtalk
View: Top 50 biotech – overview of top 50 biotechnology companies by revenue – partnering activity, deal news, partnering dealtalk