The 2011 Healthcare Value Creators Report. Written by Michael Ringel, Colm Foley and Olivier Wierzba for Boston Consulting Group (BCG).
Strength in the Storm: How Biopharmaceutical and Medical Technology Companies Can Create Value in a Challenging Business Environment builds on the thirteenth annual report in the Value Creators series published by The Boston Consulting Group (BCG).  
The five years (2006 through 2010) covered in this year's Value Creators report featured a historic global financial downturn characterized by below-average growth and high market volatility. Average annual total shareholder return (TSR) across all industries was 6 percent, well below the historic annual average of 10 percent. In this time frame, the biopharmaceutical (biopharma) and medical technology (medtech) sectors were among the worst performers. (See Exhibit 1.) Of the 19 industries analyzed, medtech ranked fifteenth with a 3.0 percent TSR, and biopharma ranked nineteenth with a 0.7 percent TSR. (See "Selection of the Value Creators Company Set" for an explanation of how we selected companies for inclusion in our Value Creators report.)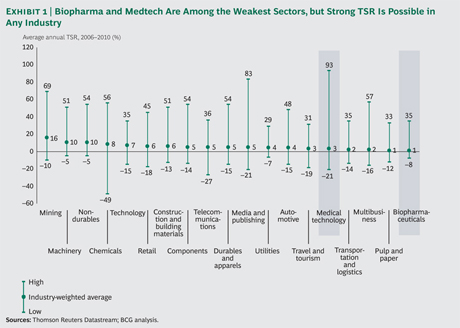 Nevertheless, even under the dark cloud of the general market downturn and inferior sector performance, many individual health-care companies shone during the study period; some even achieved breakout success. The top five performers in each of the biopharma and medtech sectors exceeded 17 percent average annual TSR over the five-year period. In fact, the top medtech company, Shandong Wego, was the top-performing company in the entire Value Creators sample across all industries, with a spectacular 93 percent average annual TSR over the period. Simply put, each company is the master of its own destiny, regardless of sector and market performance.
What levers can health care companies pull to outperform the market? We answer this question using BCG's proprietary smart-multiple methodology, which empirically identifies the drivers of TSR performance. This methodology has strong explanatory power, typically greater than 80 percent, and provides valuable insight for any company wishing to improve its performance. (See "Total Shareholder Return and the Smart-Multiple Methodology.")
The smart-multiple methodology also reveals that unique sets of variables drive valuation multiples in the different subsectors of the biopharma (large-cap, emerging, and generics) and medtech (devices, supplies, equipment, and in vitro diagnostics) sectors. (Note that both health care IT and conglomerates are excluded from our analysis.) We elaborate on the drivers for each subsector of the biopharma industry and each subsector of the medtech industry. Companies in each subsector can take steps to maximize each driver.
Selection of the Value Creators Company Set
To create our Value Creators company set, we included all companies that were publicly listed for all five years of our study period (2006–2010), with at least 25 percent of their shares publicly traded. However, we set a minimum market-capitalization floor for each sector ($5.0 billion for biopharma companies and $1.2 billion for medtech companies). (See the exhibit below.) We excluded health care IT and conglomerate companies that may participate in the biopharma and medtech sectors of the health care industry but whose TSR is a function of performance in multiple industries. These corporations are covered in our overall 2011 Value Creators report, Risky Business: Value Creation in a Volatile Economy. Some companies participate in both biopharma and medtech sectors; we assigned such companies to the sector that generates the majority of their revenues.
Total Shareholder Return and Smart-Multiple Methodology
TSR is a comprehensive measure of the total annual increase in value given to a shareholder. It measures the change in a company's market value (often decomposed into earnings and P/E multiple) plus its free-cash flow (dividend yield and changes in net debt and the number of outstanding shares).
BCG's smart-multiple methodology analyzes more than 100 business metrics and ratios for their relationship to the valuation multiple. We then back-test these metrics to find a set of determinants with consistent explanatory power for the performance observed in a sector. (See the exhibit below. For more information and an example of smart-multiple analysis, see The 2007 Value Creators Report: Avoiding the Cash Trap, BCG report, September 2007.) In the case of biopharma and medtech, the identified drivers fit into six overall categories: scale, margin, R&D productivity, near-term growth expectations, financial policy, and year-specific effects related to fluctuations in the capital markets during the period.
Surviving the Storm
Much of the commentary in news reports and the trade literature about the biopharma and medtech sectors has a distinctly gloomy tone, but our analysis clearly shows that paths to value creation exist. The companies that followed those paths were able to outperform their peers and, indeed, the market as a whole, and they provide a lodestone to guide others seeking similar success in a stormy environment.
Over the long term, strong TSR requires strong top-line growth. This maxim holds true across all industries: over the past ten years, revenue growth accounted for 77 percent of top-quartile performers' TSR. And it is even more important for biopharma and medtech: in these sectors, over the same period, revenue growth drove 90 percent of top-quartile performers' TSR. (See Exhibit 2.) Certainly, some companies have realized short-term gains by making one-time improvements in margin, financial structure, or other factors, but these gains have not driven long-term TSR performance.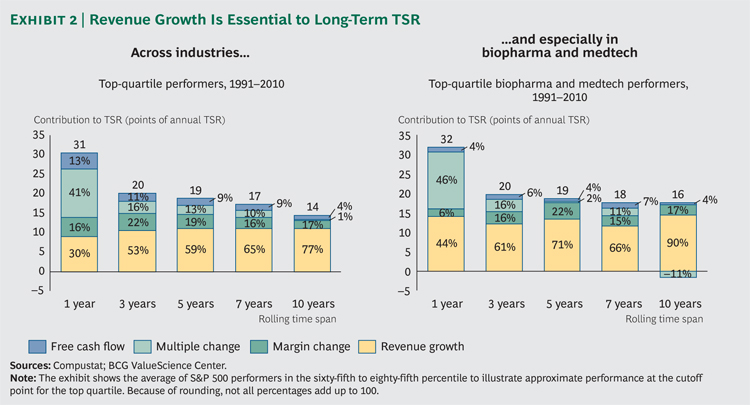 However, while growth is essential, it shouldn't be pursued at any cost. It is quite possible to grow yet destroy value by overpaying or pursuing unprofitable growth. Growth in the core is often the most successful approach, but this may not always be possible. As discussed in greater detail later in the report, three other avenues exist to reinvigorate performance when core growth stalls:
Expanding Geographically into Emerging Markets. To sustain growth in today's two-speed world (a world with faster growth in developing economies than in mature markets), companies should make certain that their strategies encompass the rapidly developing economies (RDEs). The trick is to ensure that the growth in target markets is matched with sensible margins and to customize approaches to address different demographics, commercial and regulatory environments, and distribution networks.
Expanding Value by Embracing Value-Based Health Care. Payers and governments are increasingly demanding real-world patient outcomes as a measure of whether a product is worth paying for. Companies that align their offerings to one simple metric—patient outcomes per dollar of total health-care spending—and take an integrated approach to patient care will be better positioned to benefit. This approach is called value-based health care. While it sounds simple, it has profound consequences for the products that biopharma and medtech companies sell, the way they conduct their trials, how they approach partnerships with payers and providers, and the on-market efforts they make tocontribute to better outcomes.
Expanding into New Businesses—Spending Wisely for Growth. M&A and diversification often appear attractive to health care companies, which tend to have large cash reserves, access to financing, and slowing organic growth. However, markets can punish those that pursue such activities at any price. Companies should assess both their need and their ability to diversify, in order to determine whether doing so is viable for long-term value creation.
All the value drivers we discuss in this report may seem straightforward, but their application is certainly not. In BCG's experience, superior performance starts with alignment between the management team and the board on the company's value-creation aspiration, a deep understanding of the drivers that can turn that aspiration into reality, and a specific plan to pull those levers.
Each company must plot its own path to success on the basis of its starting position and its strategy. The value drivers revealed in this report provide useful guidance. However, only through an individually tailored approach can a company achieve its value creation goals.
Five Questions That Every Company Should Address
All of the value drivers we discuss in the report may seem straightforward, but their application is certainly not. In BCG's experience, superior performance starts with alignment between the management team and the board on the company's value-creation aspiration, a deep understanding of the drivers that can turn that aspiration into reality, and a specific plan for pulling those levers. These five questions about value creation will help guide strategy in the challenging new environment.
1.Do you know your TSR aspiration, and whether the current plan will achieve it?You should have a goal that is sufficient to meet or exceed the expectations of investors. And management and the board should align on the target. Once the goal is clear, the current plan should be analyzed to determine the likelihood that it will achieve that goal. A gap is a call to action.
2.Do you understand what drives the valuation multiple for your company, and how to maximize the impact of each of the drivers discussed in this report? For large-cap biopharma, the best strategy is to protect revenue through proactive life-cycle management, to reinvigorate R&D by improving scientific acumen and removing barriers to good decision-making, to continue to improve the cost base, to optimize financial policy, and to seek new growth opportunities. For emerging biopharma companies, the best strategy is to show evidence of a sustainable innovation model while maintaining high margins. For generics companies, the best strategy is to build scale while preserving a stable financial position and finding the next source of growth. For medtech, the best strategy is to achieve strong pricing through differentiated products and to maximize the efficiency of operations.
3.What strategies will you use to achieve long-term profitable growth, the key driver of TSR? Strategies such as diversification, M&A, more-productive R&D, and higher sales penetration can boost revenue growth over a range of time horizons. You need to assess the tradeoffs involved in pursuing each of these strategies. And as the world evolves toward value-based health care, the time is right to consider how to position your company's offering to take advantage of this long-term trend for sustainable sales growth.
4.How do your financial policies affect your valuation multiple, TSR, target investors, and strategy choices? Policies such as debt-to-capital ratio and dividend payout have implications for strategy and investors. Segmenting the investors that own your stocks can provide insights into what investors value. And in markets where growth is slowing, companies should also consider debt reduction, share buybacks, and dividend payouts; these are better strategies than overpaying for growth.
5.For all of the above, do the management team and the board share the same beliefs? The companies that are successful value creators have an effective strategy that pulls the right levers. If there is no clear agreement within and among your management team and your board on your goal and the means to achieve it, getting that alignment should be a top priority. Doing so is a key enabler to navigating today's stormy environment.
To Contact the Authors
For further information about the report or to learn more about BCG's capabilities in health care and value management, you may contact one of the authors.
Michael Ringel
Partner & Managing Director
Boston
Colm Foley
Partner & Managing Director
Chicago
Olivier Wierzba
Partner & Managing Director