Written by Michael Ringel, Colm Foley and Olivier Wierzba for Boston Consulting Group (BCG).
The five-year period covered in this report was a stormy time for the bio-pharma sector. While sales growth remained strong, expectations for future growth declined significantly. P/E ratios for large-cap biopharma, a formidable 35x in 2000, plunged to 11x by 2010.
The challenges underlying this decline are well known and include pricing and access pressures, higher scientific hurdles, more-stringent regulatory thresholds, and intensifying competition. The average return on investment (ROI) in R&D for new products—the lifeblood of the sector—is now below the cost of capital, making average R&D 
value destroying
. However, performance on this measure varied widely during our study period, and some companies consistently found ways to
beat the average
.
We studied three subsectors of biopharmaceutical companies, differentiated on the basis of their business models, their risk profiles, and the factors driving their performance: large-cap biopharma (relatively diverse companies with market capitalization of $30 billion or more), emerging biopharma (relatively focused companies with market capitalization between $5 billion and $30 billion), and generics (companies that derive more than 60 percent of their sales from generic drugs). (See Exhibit 1 for the rankings within biopharma).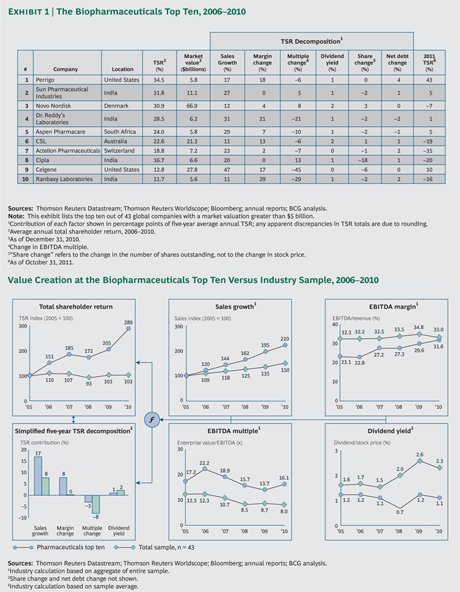 Despite their differences, all three subsectors shared the experience of severe contraction of their valuation multiple during the five-year period, offset by sales growth. (See Exhibit 2.) Near-term growth was weakest in large-cap biopharma, at 7 percent per year, and strongest in generics, at 21 percent per year. Nonetheless, some companies from each of the subsectors achieved better-than-average performance, and we used smart-multiple analysis to determine the drivers of this exceptional performance.
Among large-cap biopharma companies, the key drivers of the multiple are as follows: R&D productivity, operational efficiency/margin, financial policy, and the ability to maximize the sales value of the portfolio before and after loss of exclusivity (LOE)/growth. Investors look for both growth and stable value creation from these companies.
For emerging biopharma companies, the key drivers of the multiple are margin, R&D productivity, debt ratio, and sales growth. Investors in these companies look for a credible story of profitable growth—the next revenue engine after early success.
For generics companies, the key drivers of the multiple are scale and financial stability, particularly in debt/enterprise value ratio. From 2006 through 2010, as many innovative biopharma products lost patent protection, generics companies essentially competed in a "land grab." Investors rewarded those players that were able to rapidly gain market share without accumulating too much debt or overextending themselves financially. (See Exhibit 3 for a summary of drivers across each subsector.)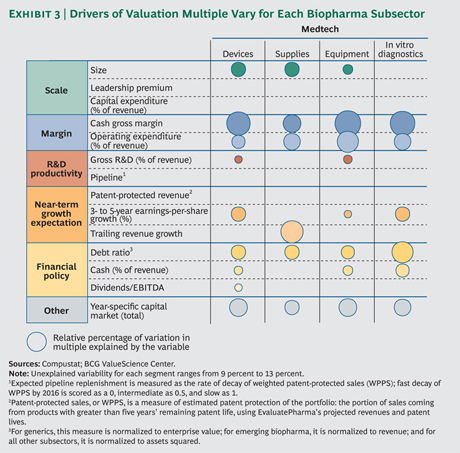 What can biopharma companies do to capitalize on these drivers of value?
Large-Cap Biopharma: Seeking Productivity
The large-cap biopharma subsector performed poorly on average, registering only a flat 0 percent annual TSR over the five-year period, despite support from substantial dividend payments. But in the midst of this generally poor performance, some individual companies performed remarkably well. (For an example, see "Novo Nordisk: Putting It All Together.")
Novo Nordisk: Putting it all together
Novo Nordisk ranked highest among the large-cap biopharma companies that BCG reviewed, attaining five-year TSR of 31 percent. The company achieved this strong performance by combining a variety of value drivers:
Revenue Growth. Growth is the most important driver of TSR. Novo significantly outpaced the large-cap biopharma average growth rate, turning in 12 percent versus peers' 7 percent.
Increased Multiple. Novo was the only large-cap biopharma that expanded its multiple over the five-year study period.
Financial Policies. Unusual for a growth company, Novo returns considerable cash to shareholders. Novo raised its dividends in each year of the report period. Following a dividend increase of 25 percent in 2010, the company proposed a 33 percent increase in 2011. Novo also has an active share-repurchase program, funded partly by the sale of lower-priority interests such as ZymoGenetics during streamlining efforts.
Increased Margin. Novo reduced cost of goods sold from 25 percent in 2006 to 19 percent in 2010, a change that helped boost margins to 4 percent annually. By contrast, the company's peers increased their margins by 1 percent annually on average during the five-year period.
To achieve these gains, Novo pulled many of the levers identified in this report. The company improved its margins and spurred growth by introducing differentiated products for the fast-growing diabetes market. In 2009, for instance, Novo launched Victoza, which is well on track to become a blockbuster and to overtake the first-entrant GLP-1 (Byetta). Novo has launched multiple blockbusters despite a relatively low R&D investment, resulting in R&D productivity that is higher than that of most of the company's peers.
Novo also took a strategic approach to geographic expansion. In 2003, the company made U.S. markets a priority. As a result, North American contributions to sales increased from about 25 percent in 2003 to more than 40 percent today. Similarly, Novo's focus on emerging markets has generated a significant share of revenue from those countries, including 9 percent from China.
The company's strong performance can also be attributed in part to effective life-cycle management. In 2007, for instance, Novo moved entirely out of small molecules to concentrate on therapeutic proteins. Because biologics are less subject to near-term competition from generics, Novo's post-LOE portfolio should continue to contribute substantially to sales, in part by avoiding the drastic revenue declines that most patent expiries herald.
For companies in this subsector, four factors drove a better multiple: improving R&D productivity, maximizing the sales value of the portfolio before and after LOE, continuing to improve the efficiency of operations, and adopting a sound financial policy.
Improving R&D Productivity. R&D productivity can be defined as the value generated per dollar spent on R&D. It is an enterprise-wide metric, given that value generation depends on levers both within and beyond the control of the R&D function. That R&D productivity has been declining for decades is a well-documented trend and one that, if uncorrected, threatens the very underpinnings of the biopharma sector. In fact, many analysts calculate that the average ROI for R&D spending is now negative. BCG's analysis of the implicit value ascribed to R&Dacross large biopharma companies supports this view. (See Exhibit 4.) However, our analysis also reinforces the notion that performance varies widely. We have shown elsewhere that the stronger performers, including Bristol-Myers Squibb and Genentech, have been those that are the most successful in addressing the main challenge to R&D productivity: bureaucracy.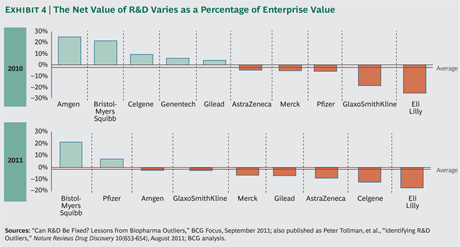 Bureaucracy delivers a one-two punch to productivity. Given the high failure rates of R&D projects, strong R&D performance relies on great science (to maximize the number of winners) and great decision-making (to identify and exit losing projects quickly).
But bureaucracy hinders the ability to conduct great science because it makes the organization less attractive to great scientists and introduces distractions that steal time from the dedicated pursuit of new drugs. And bureaucracy hinders great decision-making because it disperses accountability and introduces procedures and performance metrics that are not always aligned with enterprise-wide value creation. Indeed, often there are perverse incentives, especially against making good "kill" decisions about drug discovery projects that lack sufficient promise. For example, fixed staffing levels can be an incentive to invest in ROI-negative (but "best available") projects rather than to stop work and eliminate staff or leave staff idle.
Our assessment of the high-performing large-cap biopharma companies reveals that the following actions can help reduce bureaucracy and improve R&D productivity:
Aim for a process-light environment that removes organizational layers that ultimately hinder decision making.
Create a culture that attracts the best scientific talent and unleashes those individuals' creative potential.
Align personal and functional-unit incentives with corporate goals. Reward behaviors that drive the right decisions, made expeditiously, even when these decisions are not what the organization wants to hear.
Create an R&D strategy that focuses on differentiated products—a strategy that appropriately mixes "pull" from markets that have unmet need with "push" from discoveries at the bench.
Foster a culture in which cooperation to support overall company goals is valued as highly as expertise and individual functional performance.
The market's response to Pfizer's 2011 R&D restructuring illustrates the importance of these principles. In February 2011, Pfizer announced that it was adopting a strong ROI-based approach to decision making in R&D investments, taking measures to improve its science, reduce bureaucracy, and cut costs. Investor reaction wasextremely favorable. Whereas Pfizer's R&D valuation was among the most negative in 2010, it emerged as one of the most positive in 2011. (See Exhibit 4.) Of course, to sustain this positive valuation, the company must deliver on its plans. That outcome remains to be seen, but the large positive shift in valuation stands as an example of what companies can do to address R&D productivity, one of the key drivers of the valuation multiple.
Maximizing the Sales Value of the Portfolio. The second factor affecting TSR performance among large-cap pharma companies is the ability to maximize product revenues throughout the product life cycle. Unfortunately, in a sector in which sales are strongly driven by on-patent products, companies have paid little attention to life cycle management (LCM). When LCM has been applied, it has typically been used as a temporary fix to a looming LOE rather than as a proactive strategy to maximize sales. Even today, most large-cap biopharma companies pay insufficient attention to LCM opportunities, especially in smaller geographic markets.
The companies that extract the most revenues from their portfolios are those that treat LCM as a part of development from the outset, not as a reaction to an impending patent expiry. Strategies that maximize revenue pre-LOE and bolster revenues post-LOE deliver stronger and more stable revenue growth. Successful companies take action on four fronts: maximizing patent life through technical, legal, and regulatory means; driving greater demand and scale immediately before patent expiry; progressively lowering the cost base for the product; and limiting post-LOE revenue loss in a variety of ways, including preserving or replacing lost volume in some segments by lowering price, while maintaining a premium price in other segments that support it. (See Exhibit 5.)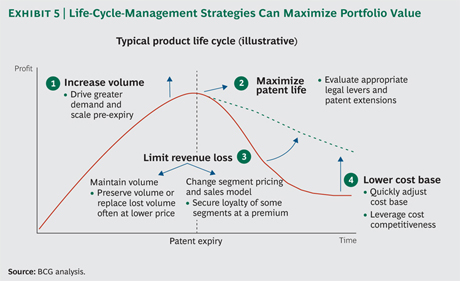 Effective LCM also takes account of geographic-market considerations. For some blockbuster products, considerable post-LOE value exists beyond the U.S. and the top five markets in the European Union. As much as 40 percent of blockbusters' potential revenue maintenance can come from "the next 20" countries, demonstrating the importance of the rest of the world market in LOE planning.
Continuing to Improve the Efficiency of Operations. Most companies in the large-cap biopharma subsector have been cutting costs for several years now, by reengineering processes and by exiting some diseases or therapeutic areas. Such actions are necessary and have produced some improvement in TSR, but on their own they are little more than table stakes and are insufficient for significantly enhancing performance. Companies should continue their efforts to hone operational efficiency in a way that deepens their focus on value creation: reviewing current activities and eliminating those that are not truly necessary, matching demand with available resources more effectively, making fixed costs more variable, and sharing risk with other stakeholders.
Adopting a Sound Financial Policy. Sound financial policy is based on two critical principles. The first is alignment with overall strategy: determining how much cash to allocate to M&A, R&D, and capital expenses and how much to return to investors based on strategic objectives. The second is building trust among investors by being consistent and transparent in the implementation of the strategy. Application of these two principles enables a company to attract investors whose investment goals are aligned with the company's characteristics. For example, value investors—those that target industries with lower-growth but consistent performance—seek higher dividends. Strong performance here is one of the differentiators that bolstered the performance of some large-cap biopharma companies during our study period. Dividend performance is likely to become even more important for this sector going forward, if the generally low growth economy continues.
An all-industry BCG study conducted between 2001 and 2005 compared two sets of companies: those that initiated or increased dividend payouts, and those that increased ongoing share repurchases by a similar amount. We found that dividends were much more effective than share buybacks at increasing valuation multiples over the ensuing three quarters (28 percent versus –5 percent, on average). Dividends have strong signaling power: they suggest that leaders have confidence in the future profitability of the company; this in turn generates interest from investors, particularly large investors such as pension and mutual funds. But share buybacks send no such signal, and because they reward only selling a company's stock, not holding it, they don't attract long-term investors.
Emerging Biopharma: Driving Innovation
Companies in the emerging-biopharma subsector tend to concentrate on select therapeutic areas, to have a specific and innovative platform, and to market few if any nonprescription drugs. They are often young, biologics-focused companies, and they may be viewed as attractive takeover targets owing to their profitability and smaller size. Note that any analysis of companies with these traits is fraught with sample bias—the end-of-period sample excludes companies that were acquired, went bankrupt, or remained or became too small to meet the cutoff market cap to be included in our sample. Nevertheless, the themes for this subsector that emerge from smart-multiple analysis are consistent with what investors say about the subsector's main drivers of value.
Smart-multiple analysis shows that the drivers of success in this subsector are a somewhat simpler set of factors than those at work in the large-cap biopharma subsector: margin, R&D productivity, debt ratio, and sales growth. The key to success is making the transition from launching or licensing out the company's first drug to running a sustainable innovation engine. Essentially, the challenge facing companies in the emerging-biopharma subsector is finding the next blockbuster franchise to follow up their initial success and convincing the market that they can succeed more than once. Those that have performed the best have a credible story for what their next compound will be. (For an example, see "Calgene: Repeating Breakout Growth".)
Celgene: Repeating Breakout Growth
Celgene has earned a place among the top three companies in BCG's combined biopharma and medtech rankings for four of the five years in the report period, thanks to breakout growth in the oncology therapeutic area and an average annual TSR of 12.8 percent.
In 1998, Celgene launched its first blockbuster, Thalomid. The company grew aggressively in the ensuing decade, both organically and through targeted acquisitions, to reinforce its core portfolio and increase global scale. In 2005, Celgene launched Revlimid, which rocketed to $2.5 billion in sales in 2010 and provided 70 percent of Celgene's revenues for that year. In 2008, the company acquired Pharmion and has since worked to integrate the Pharmion assets, improving both cost of goods sold and sales, general, and administrative expenses. The net result of these moves is that since 2003, when Celgene first became profitable, it achieved top-line growth of 48 percent and operating-profit growth of nearly 70 percent per year over the seven years that followed.
Through 2015, Celgene anticipates top- and bottom-line growth of 15 percent and 20 percent, respectively. To achieve this growth, the company is pursuing label extensions for its existing drugs and is introducing new products. Most of Celgene's development focuses on its core of innovative, high-value small molecules for oncology and immune/inflammatory applications (two areas with significant unmet needs); the company is also exploring adjacent applications for its oncology and hematology therapeutic areas through new platforms such as stem-cell technology and nanoparticle drug delivery.
Like large-cap biopharma companies, emerging-biopharma companies should focus on R&D productivity and decision making. In particular, the smaller companies within this subsector need to avoid the trap of investing in an ROI-negative project simply because it is the only asset in the portfolio in which to invest.
Generics: A Race to Scale
The generics subsector experienced a boom during the study period, winning six of the top ten spots in the biopharma five-year TSR rankings. Strong sales growth of 21 percent per year propelled generics during the period, but some observers are beginning to question the sustainability of this growth: with a dearth of large patent expiries beyond the next few years, generics companies' own pipelines are likely to shrink.
Unlike the other two biopharma subsectors, the generics subsector does not depend on R&D productivity to drive valuation multiples. Instead, the critical factors are scale and financial stability, indicative of a "land grab" situation in which companies are building scale to win share but need to do so without becoming financially overextended.
Scale helps keep the cost of goods sold low and makes it easier to take advantage of short exclusivity windows (such as the 180-day exclusivity following a successful Paragraph IV patent challenge)—both of which provide a competitive advantage.
The financial-stability metric that is most important for generics companies is debt-to-enterprise value ratio. This emphasis generally favors the larger, more established generics companies that have an existing engine to fund investments in new growth opportunities.
As with the other biopharma subsectors, growth is critical for generics companies. Potential avenues for growth include penetrating new regions (such as emerging markets) and investing in more sophisticated technologies (such as small-molecule injectables). One area with considerable interest is biosimilars. Because biologics make up a large and growing portion of biopharma revenues and are often specialty or niche products with higher margins than traditional small-molecule drugs, many generics companies hope to grow in this direction.
However, developing biosimilars requires capabilities that differ from those needed for synthesizing a small molecule, and technical, clinical, commercial, and regulatory hurdles can complicate the development process. Regulatory procedures for biosimilars are still being developed, and exist only in draft form for certain classes of molecules, if at all, in some of the largest markets. Furthermore, there is no clear metric for "biosimilarity," so successful commercialization could require large and lengthy trials to establish safety and equivalence, as well as a sizable sales force to persuade physicians to switch to a biosimilar from a trusted, branded biologic.
Moreover, many of these requirements play to the strengths of large-cap biopharma companies. This creates a competitive situation in which either large-cap biopharma or large generics companies could end up winning the biosimilars market. Victory will go to those companies that can rapidly acquire the needed capabilities of the other subsector, while drawing on their own traditional strengths.